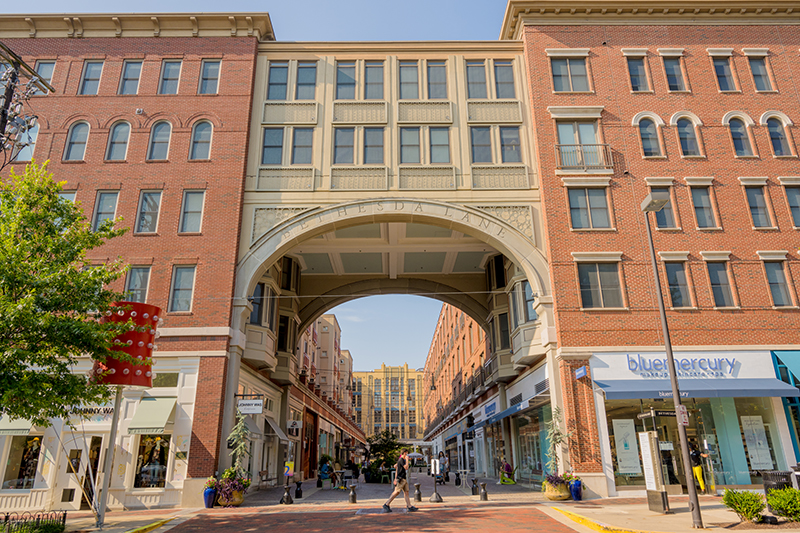 Close to DC—with lots of walkable shopping and dining, luxury apartments and condos mixed among single-family homes, and good public transit—Bethesda is one of those places that can feel equal parts sub- and -urban. And while there have been some closures amid the pandemic, new destinations have continued to open. Here's what's interesting right now.
Coming Soon(ish)
Fans of 
the Riggsby,
 Michael Schlow's throwback Dupont dining room (temporarily closed), will have to wait a bit longer to get their 
martinis, deviled eggs, and chopped salads 
at the Bethesda spinoff. The restaurant, in the former Kapnos Kouzina space (4900 Hampden Ln.), is still happening, according to Schlow's restaurant group, but has been delayed until next year. 
A surer thing: Virraaj
 (4914 Cordell Ave.), an Indian restaurant that replaces the Eritrean Delina.
Covid Closures
George's Chophouse, the elegant Cordell Avenue steak place from chef/owner Ashish Alfred, 
couldn't survive the financial losses
 caused by the pandemic. The restaurant, along with its upstairs events space, the Loft, shut down this summer. 
Another Covid casualty:
 40-year-old French bistro Le Vieux Logis, a couple of blocks away.
For Yuppies and Their Puppies
The well-heeled and the four-legged companions at their heels will soon have a new hangout called 
Bark Social, a "dog bar"
expected to open in North Bethesda's Pike & Rose development in October (935 Prose St.). For a$365 annual membership or a $40 monthly option, humans and their pets will get access to a private 
25,000-square-foot indoor/outdoor dog park 
with a coffee shop, a food menu by Union Kitchen, and 
20 self-serve taps 
dispensing beer, hard seltzer, and wine. Treats, ice cream, and CBD products for dogs will also be on offer (obviously).
Bring Home the Beach
Serena & Lily,
 the California furniture-and-decor line, debuted
 its first Mid-Atlantic shop,
 at Bethesda Row, in August (7121 Bethesda Ln.). We're talking 3,000 square feet of the brand's ubiquitous dip-dyed wood stools, Riviera rattan dining chairs, 
coastal-inspired 
textiles, rugs, and other accessories. In the interest of social distancing, the store is, for now, open only by appointment.
Goodbye, Lord & Taylor
Lord & Taylor was the only survivor when 
White Flint Mall was demolished 
five years ago, but its luck ran out this summer when the chain announced that it was filing for Chapter 11 bankruptcy and shuttering 19 locations—the North Bethesda outpost among them. 
The closure follows years of litigation
 be-tween the mall's owners, Lerner Enterprises and Tower Companies, and the department store, which alleged that the owners had breached their contract by closing the surrounding mall. During Amazon's search for a second headquarters, the land was 
briefly considered a contender for HQ2
. Since that fizzled, no redevelopment plans have been announced.
Quarantine Hair
This past winter will no doubt go down as one of the worst periods in history to have opened a new storefront. But 
Madison Reed's December debut
 at Bethesda Row (7254 Woodmont Ave.) actually appears to have been well timed. The chain bills itself as a 
beauty-industry disrupter, selling at-home hair-dye kits
 that fall somewhere between drugstore boxes and expensive salon treatments. Customers can upload photos of themselves if they want a virtual stylist to help them choose a shade and offer application advice. While you can have a real-life stylist color your hair for you at the brick-and-mortar locations, you can also simply use them to pick up your at-home kit (or have it shipped to you). The company became 
an MVP of the pandemic,
 reporting a ten-fold business boost in the first month of the crisis.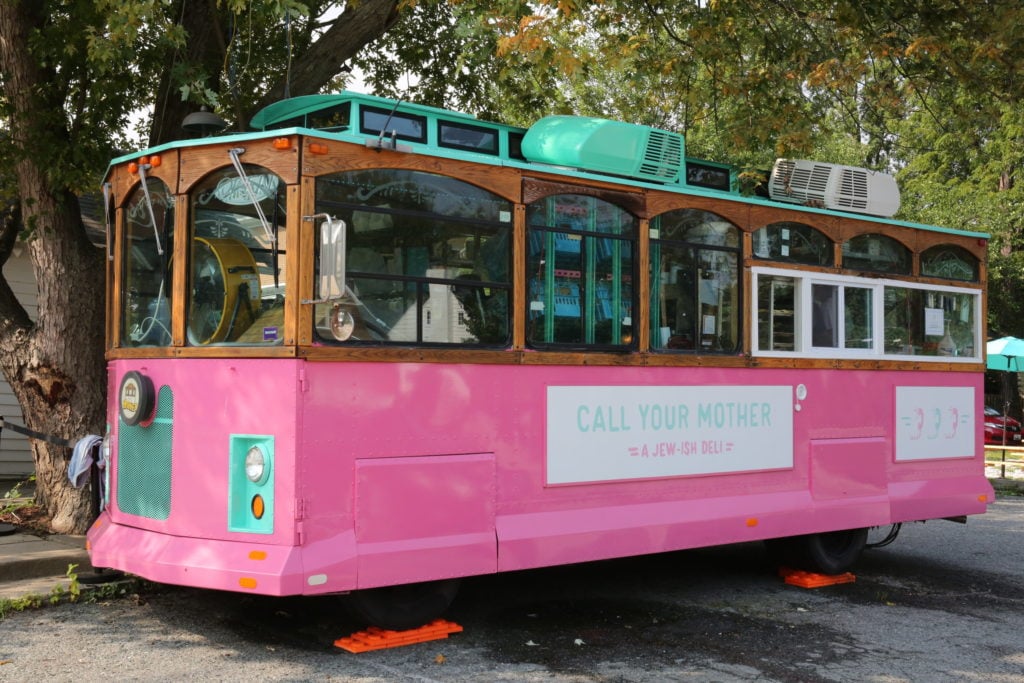 Carbs on Wheels
Call Your Mother,
 the popular 
"Jewish" bagel spot
 from the Timber Pizza team, expanded to Bethesda this summer with a cheerful 
pink-and-teal trolley. 
The mobile outpost has many of the same items as the DC locations—think 
wood-fired bagels stuffed with smoked salmon,
pastrami, or whitefish salad.
 You can find the trolley hanging out in a parking lot by Suburban Hospital (8804 Old Georgetown Rd.).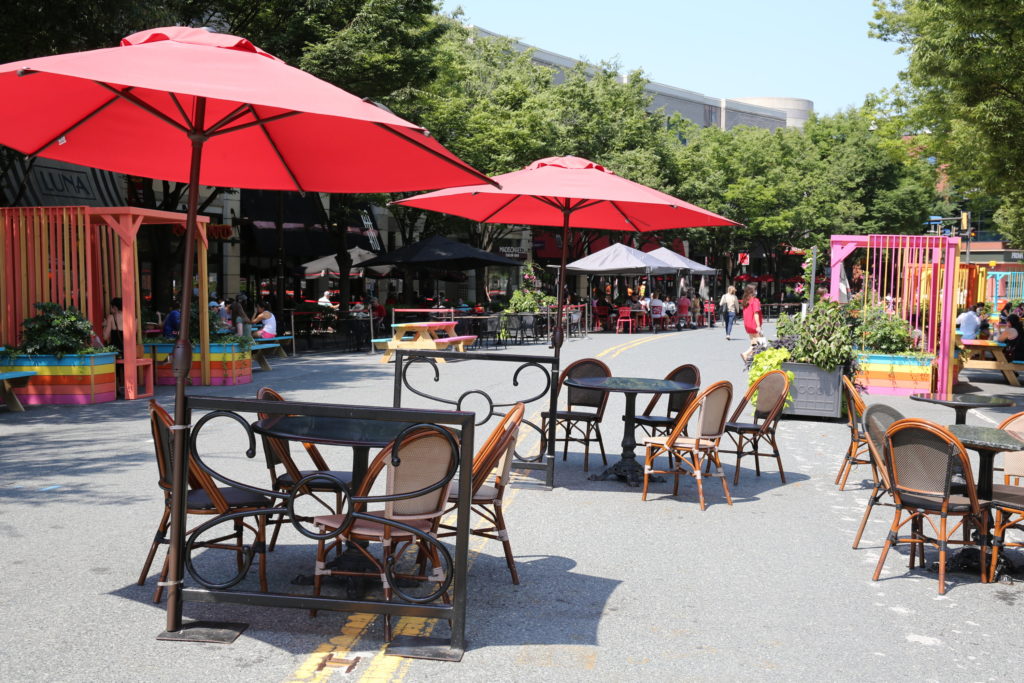 Street Food
In the Covid era, snarled traffic is out, pat­o dining is in. Hence the 
advent of the "streetery"—
closed-down streets transformed into additional outdoor seating for restaurants. In downtown Bethesda, you'll find one operating along 
Norfolk, Cordell, and Woodmont avenues.
 Tables for diners to enjoy a meal from nearby restaurants such as Barrel & Crow and Raku are all 
spaced at least six feet apart,
 of course. Most of the streetery, which is run by the Bethesda Urban Partnership, has been operating daily since Montgomery County's phase-one reopening in June.
New Clothes
When it's time to wear real clothes regularly again, 
two new women's stores
 will await in Bethesda. 
Johnny Was,
 a California fashion-and-lifestyle brand, has already taken over the former Lilly Pulitzer space at Bethesda Row (4867 Bethesda Ave.). At the Wildwood shopping center (10241 Old Georgetown Rd.),
 Indigo Octopus,
 a boutique from Fenwick Island with 
brands such as Golden Goose and Cleobella,
arrived this fall.
Let Them Eat Sushi
Birthday coming up? One new way to celebrate: a 
sushi cake.
 Yes, for $150, the Friendship Heights restaurant 
Sushiko
 (5455 Wisconsin Ave.) will fashion a "cake" from enough 
sashimi, shellfish, and sushi rolls 
to feed two to four people. Thank-fully, the only sweets involved are the (easily avoidable) white-chocolate chips used for garnish. The creations are available for pickup with 48 hours' notice.
Dot-Com to Brick-and-Mortar
Washington got its first
 Amazon 4-Star
in August when the store opened on the lower level of Westfield Montgomery mall (7101 Democracy Blvd.). As the name suggests, the concept sells only items—as varied as books, games, Kindles, and coffeemakers—that have 
at least a four-star rating 
on the Amazon website.
Lots of Vacancy
The past six months have been brutal for 
Marriott International,
 the largest hotel company in the world. In March, at the start of the pandemic, it furloughed thousands of employees, including about two-thirds of the corporate personnel at its headquarters in North Bethesda. In May, Marriott announced that furloughs would be extended. And in September, the company notified the state of Maryland that it 
planned to lay off 673 workers 
from its HQ by the end of October. Even so, construction continues on its
 new campus—and adjacent 244-room Marriott hotel—
on Wisconsin Avenue in downtown Bethesda, expected to open in 2022.
Art and Park
Downtown Bethesda's 
newest mural
 comes from 
Baltimore
artist Megan Lewis,
 who finished the piece wrapping around a parking garage (8216 Woodmont Ave.) in September. Some 50 artists applied to paint the structure—part of an initiative by the Bethesda Arts & Entertainment District—but Lewis's colorful, commuter-inspired design won out. It's the fourth mural since the initiative started in 2015.
Double Scoop
Bethesda was never hurting for sugar-fix options, but there are a couple of fresh frozen-treat shops on the scene. 
Sarah's Handmade Ice Cream
 brings its extra-thick shakes, sorbet floats, and ice-cream sandwiches and pies to a second Bethesda location (10241 Old Georgetown Rd.) in the Wildwood shopping center. And a branch of the Baltimore-based chainlet 
Pitango
 (4901 Fairmont Ave.), known for spinning local ingredients into decadent gelato, debuted this summer.