[Dining] Coming Soon
A new seafood restaurant, SeaSalt, is coming to the luxury mixed-use community Park Place (1 Park Pl., #7) early this summer, in the space that was formerly Fado. Owners include mixologist John Hogan, who will helm the bar, and chef Alfredo Malinis on the culinary side.
The duo first worked together opening the farm-to-table small-plates/craft-cocktail lounge Level in 2009 (Hogan as part owner, Malinis as executive chef)—a time, Malinis tells us, when there was nothing like it in the Annapolis restaurant scene. "We're looking forward to setting that bar again," he says. Their third partner in SeaSalt, commercial real-estate professional Colin Lennon, will take a management role.
[Imbibing] Wine Down
In September 2020, already dealing with fallout from the pandemic, Great Frogs Winery (3218 Harness Creek Rd.) sustained yet another blow: A tornado tore through the property and took out part of the tasting room, forcing the business to shutter for months. May marks one year since it reopened. The newest wine in the Great Frogs collection? A bourbon-barrel-aged red, aptly named Onward. The winery is open for tastings on Saturdays, and reservations are encouraged for indoor seating.
[Shopping] Flower Power
After beginning as a build-your-own-bouquet flower truck, Peaceful Petals opened a brick-and-mortar shop in the Annapolis suburb of Severna Park (554 Baltimore Annapolis Blvd.) in 2020. You can assemble your own priced-by-the-stem bundle at the flower bar or choose a grab-and-go bouquet. This spring, the truck will do to-be-announced pop-ups around Anne Arundel County.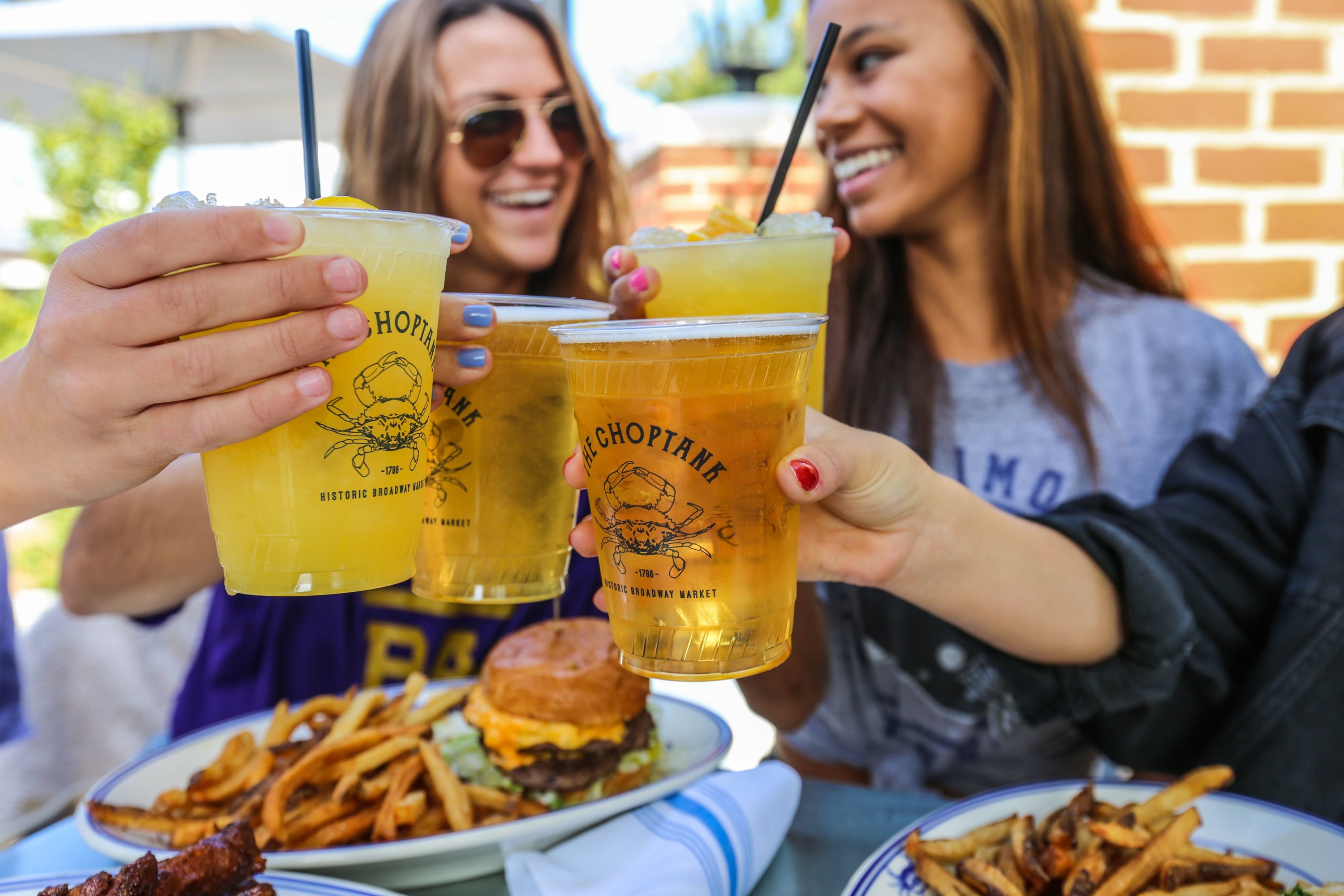 [Dining] Splashy Arrivals
After much anticipation, the old Fawcett's building (110 Compromise St.) will finally welcome a restaurant this summer: Annapolis Choptank. (The building was home to Fawcett Boat Supplies for decades before that business moved out in 2010.) The waterfront eatery comes from Atlas Restaurant Group, which owns dozens of other spots in Maryland and beyond, including the Choptank in Fells Point. Like the original, the forthcoming location promises to be a "classic fish and crab house." It will have seating both inside and out, including a covered rooftop bar with water views and dockside dining with fire pits and games.
Also reportedly on the way: Andrew Fox and Devon Glaccum (linked to such local favorites as Fox's Den and Vida Taco Bar) will take over the prime waterfront locale at Chesapeake Harbour (2020 Chesapeake Harbour Dr. E.), previously occupied by Sam's on the Waterfront. According to the local NaptownScoop newsletter, the new restaurant will be called Beacon on the Waterfront and feature a "casual coastal" concept.
[Streetscape] Spot Topic
Parking downtown—ever the hot topic—is causing a bit more angst than usual, just in time for the season when locals have to compete with day-trippers for spots. Hillman Garage—a go-to for its proximity to Main Street and City Dock—is closing for reconstruction. Five other garages in the vicinity—Calvert Street, Gott's, Knighton, Park Place, and Whitmore—will remain open, some with discounted parking, and the city has created a new website, Access­Annapolis.com, to help visitors plan ahead for parking.
[Imbibing] New Brew
RaR Brewing, which opened in Cambridge, Maryland, in 2013, will debut its second location, in West Annapolis, later this year. It will include a taproom (the Cambridge shop offers a rotation of more than two dozen beers on tap, including an American stout, a double IPA, a sour ale, and a hefeweizen) as well as a restaurant, complete with its much-raved-about Chessie Burger. The new space will occupy the address of the old Mexican Cafe (609 Melvin Ave.) but, according to the Capital newspaper, will undergo a significant remodel and partial demolition.
[Streetscape] Big Picture
Future History Now, a nonprofit that facilitates collaborative mural projects with kids in underserved communities, has been painting Annapolis walls and buildings since 2016. Its profile got a big boost in 2020 when, in partnership with the Banneker-Douglass Museum and the Maryland Commission on African American History and Culture, its young artists painted a 7,000-square-foot mural of Breonna Taylor across two basketball courts in Chambers Park (14 Dorsey Ave.). Since then, they've also painted a mural of late congressman John Lewis (95 West St.) and one of late Supreme Court justices Thurgood Marshall and Ruth Bader Ginsburg (156 South St.), among others. In total, they've completed nearly two dozen projects around the city. More about the murals is at futurehistor-ynow.org/projects.
[Culture] Return of the Music Festival
After a hiatus of two years, Eastport a Rockin' and Bands in the Sand will be back this summer. Eastport a Rockin' (eastportarockin.com), an all-day showcase of dozens of local bands on multiple stages, will return June 25, and Bands in the Sand (cbf.org/events)—the one-evening, beachy Chesapeake Bay Foundation fundraiser with its food-and-drink-inclusive tickets—is happening June 11. Check the websites to get tickets in advance.
[Dining] Freshly Baked
Black Market Bakers, the über-popular pop-up pastry truck whose lines wrap around the Chevys parking lot on week-end mornings, is getting a storefront. This flocked-to spot features a sweet-and-savory menu of breakfast sandwiches, avocado toasts, and a slew of rotating "specials" (think a cookies-and-cream bun, a lemon-drop "cruffin," and a blueberry-maple scone), plus "classics" (an oatmeal cream pie and a cinnamon crumb cake, for example). The owners plan to open just south of Annapolis in Edgewater (155 Mitchell's Chance Rd.) this spring, but you can catch them in the truck until then—and they say the truck pop-ups will continue even after the store is open. Check their Instagram page (@blackmarketbakers) for updated hours and menus.