What's New
By Marisa M. Kashino and Margaret Kates
Here Comes the Neighborhood
The area now being called National Landing
 is made up of three more familiar-sounding places: Crystal City, Pentagon City, and part of Potomac Yard. While the new name debuted when Amazon made its big HQ2 announcement back in November 2018, 
the moniker only recently became more official.
 Last September, the Crystal City Business Improvement District expanded its boundaries to encompass the entire HQ2 area. Then the organization changed its name to the National Landing BID this June after getting the Arlington County Board's sign-off.
Doors Opening
A second entrance for the 
Crystal City Metro 
is in the works. In July, Arlington County approved an agreement with a subsidiary of 
HQ2 developer JBG Smith
 for construction of the entrance, to be at the northwest corner of Crystal Drive and 18th Street.
In normal, non-pandemic times, the Crystal City station's only existing entrance is often overcrowded and has limited emergency egress.
 The idea for a second entrance
 has been around much longer than HQ2—it was initially part of a 2010 plan for the neighborhood. But last year, JBG Smith proposed that it be the company to finally design and build it.
Pop-Up BBQ
Kevin Tien, 
former chef at the Capitol Hill hot spot Emilie's,
 and Scott Chung, owner of the homemade-
bao
 venture Bun'd Up, teamed up to create 
Wild Tiger BBQ
 (1201 S. Joyce St.), which opened in Pentagon Row in August. The menu reflects Tien's roots in Texas and Louisiana and Chung's upbringing eating his family's Korean barbecue. You'll find ramen-rubbed meats and sides such as 
tater tots with miso ranch and kimchee pimiento dip.
 Wild Tiger is a pop-up for now—it's run from Chung's Bun'd Up location in Pentagon Row, which opened late last year. But the chefs have said they may be on the hunt for a permanent home for the concept in the future.
Make a Splash
Amazon's developer is also attempting to overhaul the existing 
Crystal City Water Park,
 named for its fountains. In plans filed this fall, JBG Smith proposed adding retail kiosks, a 
144-seat "water bar" 
that will sit atop a fountain wall, and a 2,200-square-foot restaurant with 119 indoor seats plus 50 outdoor seats under a pavilion.
Going Up
With thousands of tech workers still on the way, it's no surprise that 
Amazon land
 is rife with apartment development. Currently, 
6,800 residential units are under construction 
or slated to be built, adding to the 15,000 units already in the area. 
The newest to open is Sur
—yes, named after California's Big Sur—in Potomac Yard. It has 360 apartments and lots of communal space, such as a Zen garden, a fitness center, rooftop cabanas, and a dog spa.
Freshman (Next) Year
Arlington native Nick Freshman is opening his new cafe, 
the Freshman
 (2011 Crystal Dr.), in Crystal City next year. According to its website, the space is ready for customers but waiting to open "until just the right moment when we all feel a little safer, and things are a little more normal." Freshman co-owns Spider Kelly's in Clarendon and founded Mothersauce Partners, the group behind the bowling/upscale-pub-grub spot the Eleanor and the laid-back neighborhood joint Takoma Beverage Company. His latest venture will serve 
coffee and tea all day and cocktails at night.
 The Freshman will also have a full kitchen, turning out sandwiches and breakfast foods made with 
locally sourced ingredients.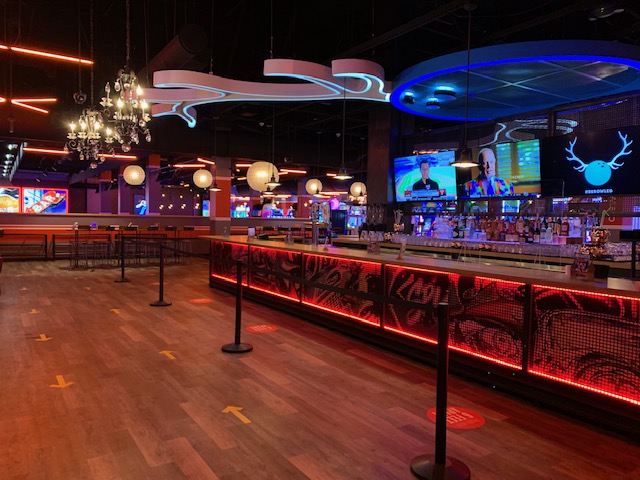 Bowled Over
The high-end bowling chain 
Bowlero
 opened a 50,000-square-foot Crystal City location in July (320 23rd St. S.),with 
32 lanes, an arcade, and a sports bar.
 The place is decked out in retro decor­—think vintage light fixtures, comfy lounge seating, and funky wall designs. During the pandemic, lanes are limited to six people and bowling balls can't be shared.
Route 1 Upgrade
As part of their pitch to win HQ2, Virginia officials committed to overhauling Route 1, which currently 
cuts through Crystal City via hulking overpasses.
 The Virginia Department of Transportation is in the midst of a Route 1 study, aiming to unveil its recommendations for a redesign next year. But in the meantime, the National Landing BID published three of its own concepts in October, presumably hoping to influence the state's thinking. All of the BID's ideas would bring the highway down to street level,
 creating a much more pedestrian-friendly corridor.
Italian Import
Napoli Salumeria
 (1301 S. Joyce St.), an Italian market selling fresh pastas and sauces, sandwiches, breads, meats, cheeses, gelato, and other products, opened in Pentagon Row this fall. 
Owner Antonio Ferarro
—who's also behind the acclaimed Columbia Heights spot Napoli Pasta Bar—designed the concept with the pandemic in mind, because
 it's perfect for carryout.
 For those who'd rather dine in, the market also has seating for 40.
Amazon's Latest Move
Though Amazon has been in National Landing since last year—leasing hundreds of thousands of square feet across several older properties—
its first new(ish) building
 is about to be ready for occupancy. JBG Smith's redevelopment of the existing 12-story office building at 
1770 Crystal Drive
 is scheduled to finish in December. The remodeled version is clad in top-to-bottom glass curtain walls and will include a retail colonnade on Crystal Drive. Amazon has leased nearly 98 percent of the building.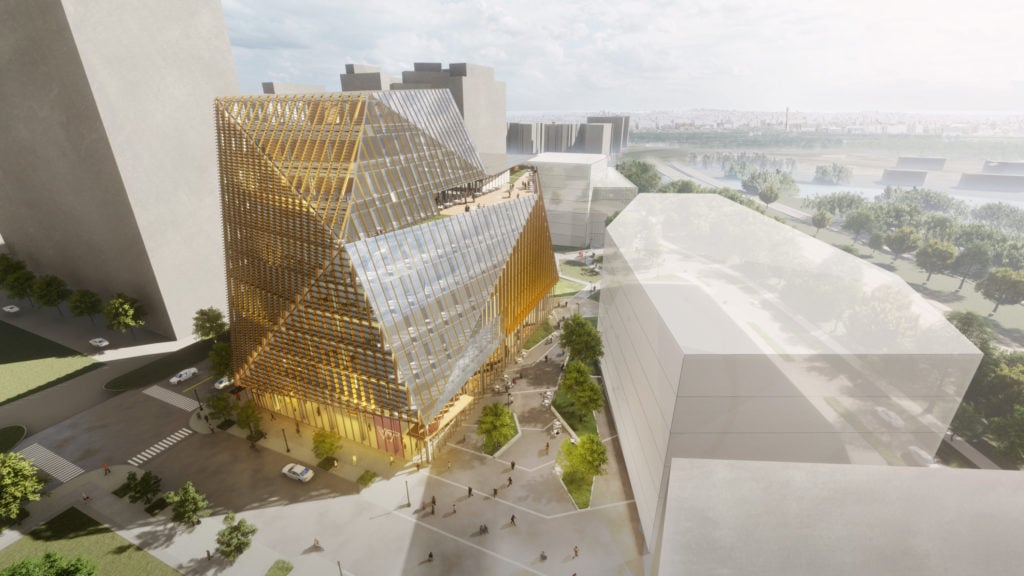 Virginia Tech Update
The 
Virginia Tech Innovation Campus
—to be built on three and a half acres near the future Potomac Yard Metro station—was another piece of the Commonwealth's bid to lure Amazon. The campus will focus on 
graduate-level education in computer science and engineering.
 Its new physical space hasn't yet been built, but the Innovation Campus welcomed its inaugural class this fall. Due to the pandemic, the 79 students are taking courses remotely. 
Executive director Lance Collins
 also started in the fall semester. He was previously dean of engineering at Cornell. Construction of the campus's first new academic building in Potomac Yard is on track to start next summer and to open to students in 2024.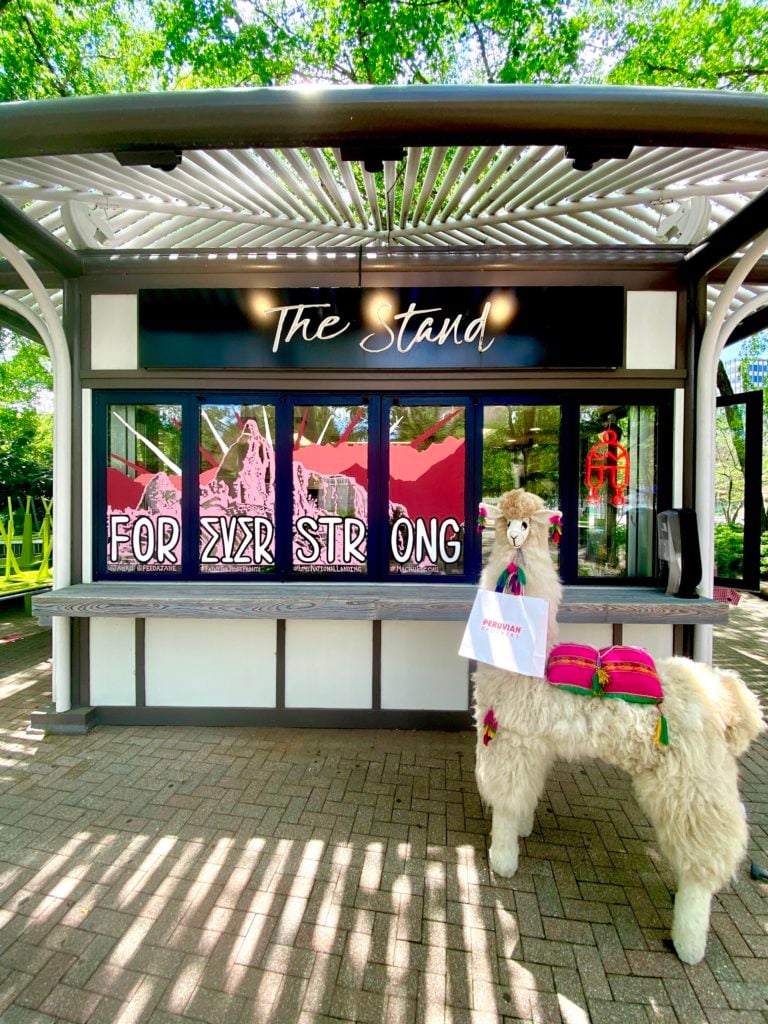 Peruvian in the Park
The Stand
(1601 Crystal Dr.), a pop-up eatery in the middle of Crystal City Water Park, used to host a rotating cast of restaurants. Since April, it's been permanent home to 
Peruvian Brothers,
 the food truck and catering outfit from Giuseppe and Mario Lanzone. At the Stand, customers can pick from a selection of 
baked empanadas
 and enjoy them in the park or on the go.
Coming Attraction
Central District Retail
 (1550–1660 Crystal Dr.), JBG Smith's shopping-and-entertainment project in the middle of National Landing, was originally supposed to debut in 2020. It's now scheduled to open at some point next year. The developer promises 
a grocery store plus restaurants, bars, and "other experiential offerings."
 So far, only the anchor tenant—
Alamo Drafthouse Cinema
—has been announced. At the upscale theater chain, servers bring lo-cal beers and hot meals to your seat. The National Landing location will take up 49,000 of the Central District's total of 109,000 square feet.
Andrew Beaujon contributed to this section.
What's Amazon
Though the first brand-new HQ2 buildings—a pair of 22-story office towers—won't be complete until 2023, Amazon has been operating in National Landing since June 2019. The company still has a long way to go before reaching the 25,000 employees it projects at full build-out, but as of now it has more than 1,000 workers in National Landing. Here's where HQ2 is already up and running.
Amazon occupies a total of 345,000 square feet across these buildings:
2100 Crystal Drive
2345 Crystal Drive
241 18th Street South
1800 South Bell Street
It has also leased nearly 98 percent of this newly redeveloped 212,000-square-foot building:
1770 Crystal Drive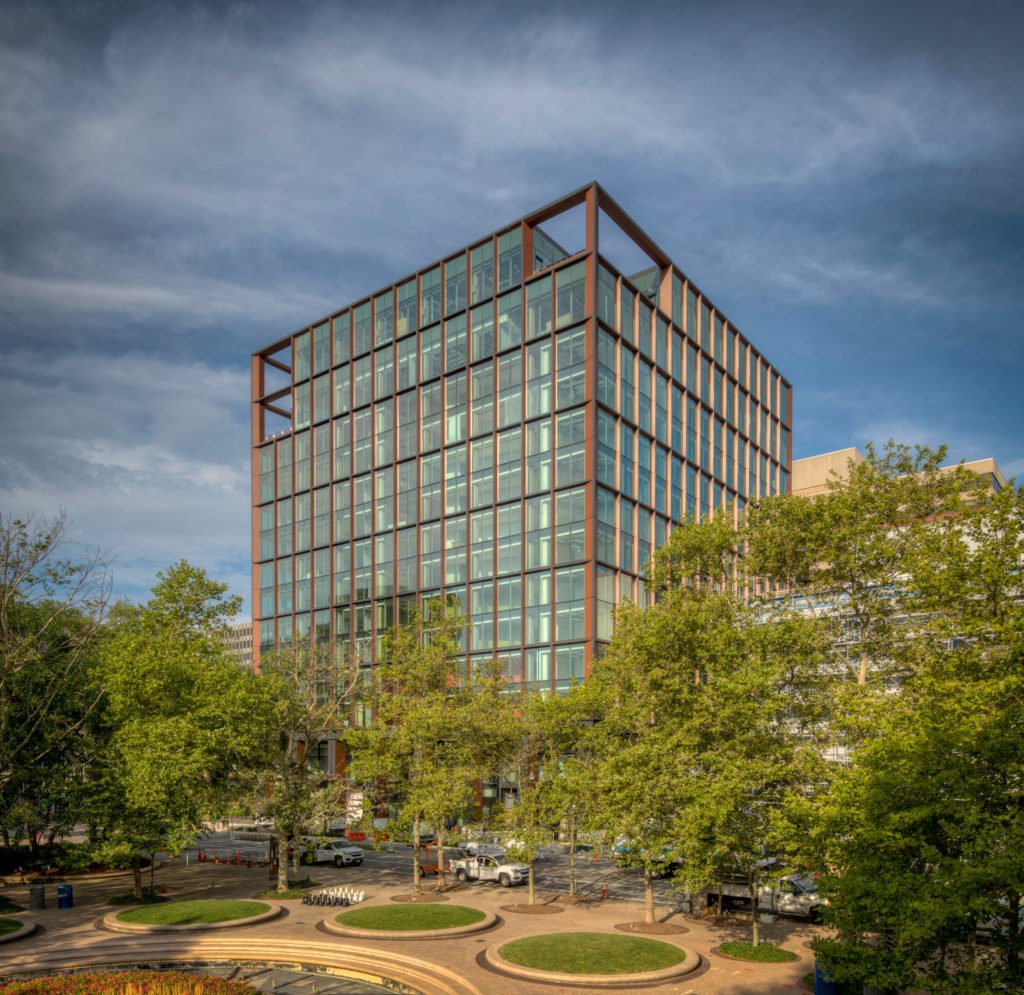 What's Classic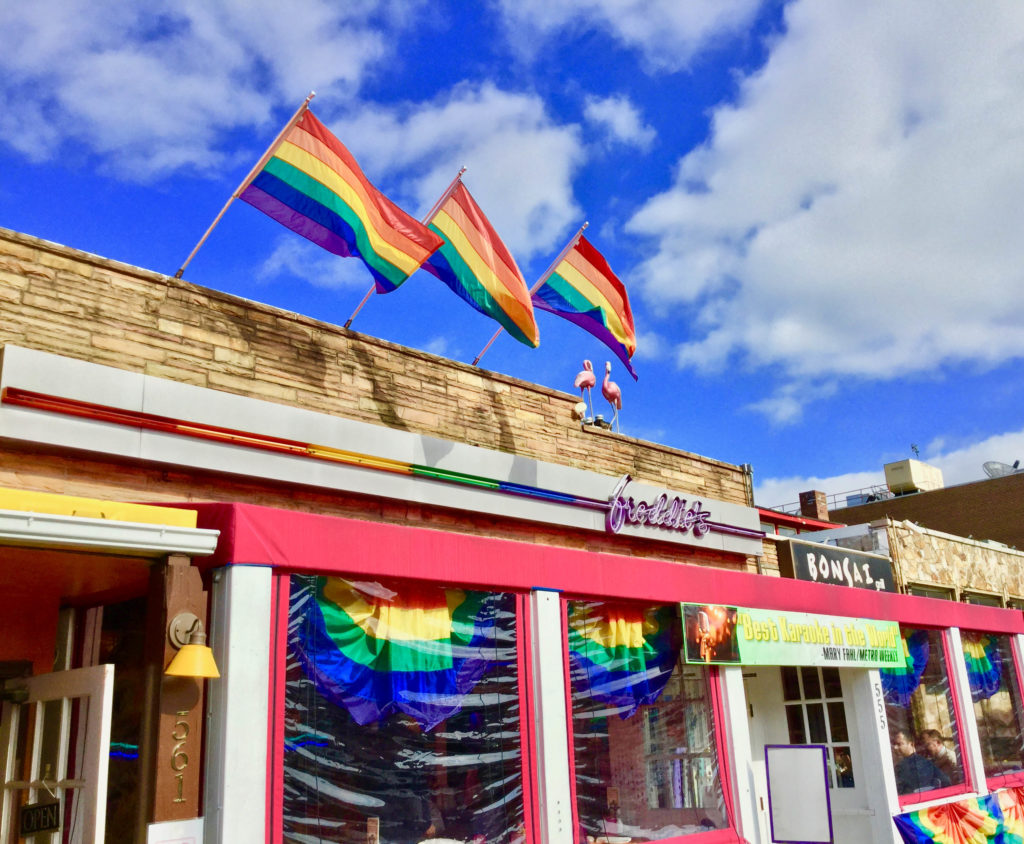 As National Landing grows and Amazon's workforce multiplies, we hope these old-school Crystal City haunts stay just as they are
This isn't your average strip club. Around since the 1960s, it opens at 10 am, serves breakfast all day, and offers deep-dish apple pie for dessert. 422 23rd St. S.;
703-892-0726.
The early-'90s sports bar and restaurant has a terrific patio, zillions of TVs, plenty of seats, and the wings and mozzarella sticks you'd expect. During NFL season, its huge size allows fans of teams across the US to stake out some territory to watch together. 529 23rd St. S.; 
703-521-8215.
The campy purple dive bar has been a safe space for Washington's LGBTQ community—including gay servicemembers, given its proximity to the Pentagon—since long before "safe space" was even a term. 555 23rd St. S.;
703-685-0555.
Owner Lucien Alban Odoulamy, an immigrant from Benin, sells every kind of puppet imaginable from his shop in Crystal City's underground mall. The trained puppet master is also happy to offer a demo with his wares. 1750 Crystal Dr.;
703-414-7885.
No, a spaceship didn't land atop a midpriced chain hotel. The saucer in Crystal City's skyline is one of the only remaining revolving restaurants on the East Coast. 300 Army Navy Dr.; 
703-416-4100.
The "physical theater" company stages movement-based plays. Some productions, such as its Wordless Shakespeare series, have no dialogue at all. This year marks its 20th season. 1800 S. Bell St.; 
703-824-8060.