What's new in DC's famous neighborhood.
By Damare Baker, Daniella Byck, and Maya Pottiger
[Dining] Starr Power
The vacant former Dean & DeLuca on M Street is now the future home of one of the District's most anticipated new restaurants. In June, Stephen Starr, the restaurateur behind Le Diplomate and St. Anselm, announced plans to turn the space (3276 M St., NW) into a casual Italian destination and hinted that he may be partnering with revered chef and cookbook author Nancy Silverton (founder of La Brea Bakery in Los Angeles). The pasta-centric spot will also include a market for gelato and fresh pastries, a wine cellar, and a giant hearth in the middle of the dining room to bake bread and pizzas. Says Starr: "It's going to be an event. It's going to be a festival of food."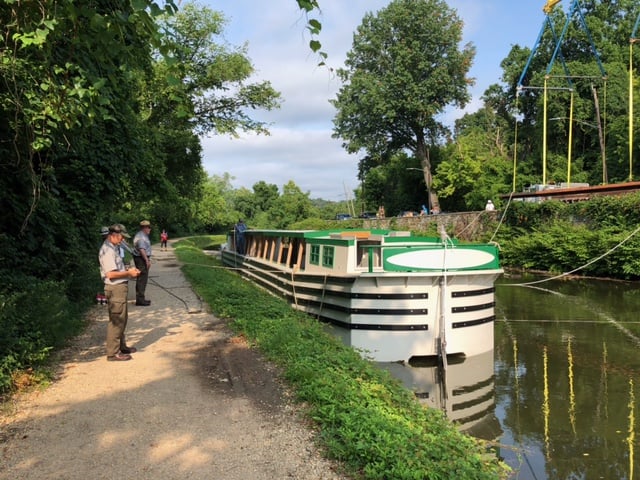 10[Streetscape] Maiden Voyage
In July, an 80-foot-long, 12-foot-wide, $1.5-million canal boat made its debut on the C&O Canal. The vessel, a modern reproduction of the historic packet boats that used to glide up and down the waterway, was the result of three years of engineering and construction. It's a key piece of the Georgetown Canal Plan, a project to restore and enhance the neighborhood's one-mile section of C&O Canal National Historic Park. For now, though, it's just for looks. Passengers won't be able to climb aboard until 2022.
[Shopping] Wedding > House > Baby
Got a big life milestone coming up? Three new Georgetown shops have you covered. In March, a DC couple opened Duly Noted (1355 Wisconsin Ave., NW), which creates custom wedding invitations and sells a variety of other stationery, cards, and gifts.
The moderately priced modern-home brand Blu Dot (3333 M St., NW) is the latest arrival to Georgetown's top-notch furniture scene. The M Street showroom is only its second East Coast location, after New York.
Mini Me Little Boutique (3236 P St., NW) is a one-stop shop for luxe baby items, with a selection of vintage toys, upscale European wear, and self-care products for expectant moms like candles and body butter.
[Fun] Better Than a Beer Garden
What was once a gas-station parking lot is now a massive drinks garden called Sandlot (2715 Pennsylvania Ave., NW), pouring cold-pressed-juice cocktails in a utilitarian shipping-container bar. The venue highlights Black chefs and Black beverage producers, with a rotating residency for food trucks. Live music is also on the way—look for go-go, DJs, and jazz performances.
[Shopping] Town and Country
London's Budd & Co. opened in a George-town rowhouse (2824 Pennsylvania Ave., NW), offering a number of popular British brands in one place: Bremont, Budd, Dunhill, Globe-Trotter, Santa Maria Novella, and Tusting. This is the spot for a bespoke suit or leather accessories.
At the other end of the wardrobe spectrum, Faherty (3263 M St., NW) opened in April. The shop's nautical decor matches its laid-back, beachy apparel. You'll find designs for the whole family as well as items made in collaboration with Native artists Doug Good Feather and Bethany Yellowtail.
[Dining] Mediterranean Markets
After a fire closed the original location in Shaw, chef Cagla Onal-Urel reopened Green Almond Pantry (3210 Grace St., NW) in the micro–food hall Grace Street Collective. The 15-seat lunch counter offers focaccia layered with jammy tomatoes, creamy dips, and herbaceous bean salads, plus the addition of a grill to char branzino and lamb kofta.Snag bottles of natural wine and tinned fish from the restaurant's market for a to-go spread.
Meanwhile, chef Nicholas Stefanelli collaborated with Via Umbria owners Bill and Suzy Menard to bring a pop-up branch of his Wharf trattoria and market, Officina (1525 Wisconsin Ave., NW), to Georgetown. Stop by the cafe for a morning espresso and hazelnut biscotti or grab a table in the streetery for Italian classics such as veal cutlet and ricotta-stuffed ravioli. The market portion sells fresh pasta, imported olive oil, and vino.
[Shopping] New Way to Shop
The former Brooks Brothers store has transformed into a "retail lab"—i.e., a three-story space for a rotating selection of local pop-up brands. The 22,000-square-foot Concept 31/M (3077 M St., NW) currently features six brands: wellness shop Synergy & Serenity, jewelry store Kicheko Goods, Greek sandal maker Laiík, clothing shop Still Learning Co., fitness brand Flex All Day, and men's outfitter Short Steve Button Downs. Each company has a designated space with its own checkout counter, similar to an indoor flea market.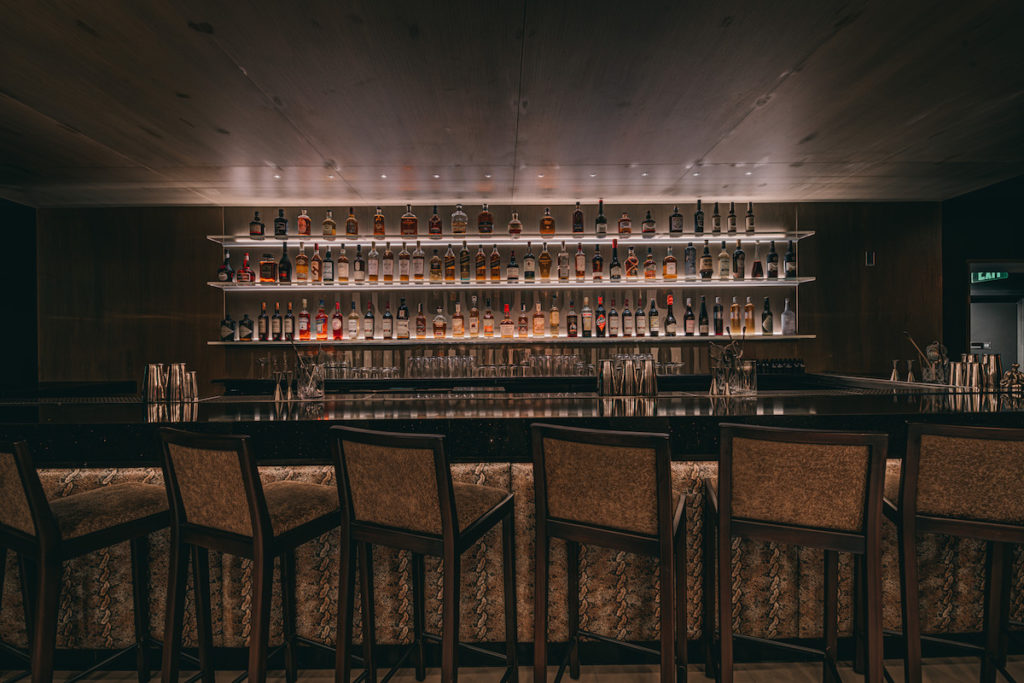 [Imbibing] Cheers!
A pair of swanky new cocktail joints recently landed in Georgetown. Donahue (1338 Wisconsin Ave., NW), in the space that once housed Smith Point, comes from Fabio Trabocchi Restaurants alums Luca Giovannini and Cesar Valera plus restaurateur Noe Landini. Expect $14 cocktails and "chambongs," the bubbly sibling to beer bongs, alongside seafood towers and caviar service.
At the neighborhood's western end, Clyde's Restaurant Group opened the preppy cocktail bar and eatery Fitzgerald's (1232 36th St., NW). Sidle up to the mahogany bar surrounded by vintage sports memorabilia for remixed versions of classic cocktails: brown-butter old fashioneds, lavender margaritas, and a cosmo mixed with pomegranate and apple shrubs. Pad the stomach with Korean chicken wings or a towering Peking-duck burger.
[Dining] Bagels for Biden
For his first restaurant visit as President, Joe Biden stopped at Call Your Mother's Georgetown location (3428 O St., NW) for a sesame bagel with cream cheese. The "Jewish" deli opened its fourth location for wood-fired bagels last year in the neighborhood, in the bubblegum-hued Greenworks Florist building. You'll find all the same favorites, including cacio e pepe cream cheese and sandwiches layered with Frito's, at the pickup-only spot.
[History] Preserving the Past
Just before Juneteenth, DC congressional delegate Eleanor Holmes Norton introduced legislation to establish a federal memorial on the Georgetown waterfront honoring the enslaved Africans who may have arrived there in the 1700s. While a lack of documentation has made it tough to know for sure whether slave ships docked at the Georgetown port, research into the matter is ongoing. What is certain is that the neighborhood has many other connections to the transatlantic slave trade, including as a hub for slave auctions.
If the bill passes, the Georgetown African American Historic Landmark Project will plan and establish the memorial. A precise location hasn't been determined.
[Streetscape] Parking vs. Pedestrians
If you've taken a stroll through Georgetown lately, you've probably noticed it's a lot roomier than it used to be. In January, the neighborhood's Business Improvement District began widening sidewalks to accommodate more outdoor restaurant seating, and earlier this summer, the organization announced that it would significantly expand the Georgetown Decks project. As a result, there are now 15-foot-wide sidewalk extensions along M Street between 29th and 34th as well as along Wisconsin Avenue between Q Street and the C&O Canal.
Of course, this also means that already-scarce street parking has become much scarcer. As a consolation, the BID is working with parking garages to offer discounts. The decking will be in place for the rest of the year but could stick around longer depending on feedback from visitors and businesses.
[Real Estate] Julia Child's Little Jewel
The dramatic renovation of Julia Child's former Georgetown home—which began in 2015—is finally nearing completion. Its current owner, software entrepreneur Rory Veevers-Carter, has documented the process on the Instagram account @jewelonolive. (The famous chef, who lived there from 1948 to 1961, called the house her "little jewel.") Veevers-Carter originally planned to live there but told Washingtonian earlier this summer that he intended to list the house on Olive Street either for sale or for rent.