What's New
Shop
Grace Loves Lace
Since its opening in April, the boutique with the claim to "Pinterest's most pinned wedding dress" has brought its delightfully lacy, Australian-made bridal collection to an earthy-chic, appointment-only showroom (1266 Fifth St., NE)—its first in the Washington area—where tea and bubbly are poured for guests.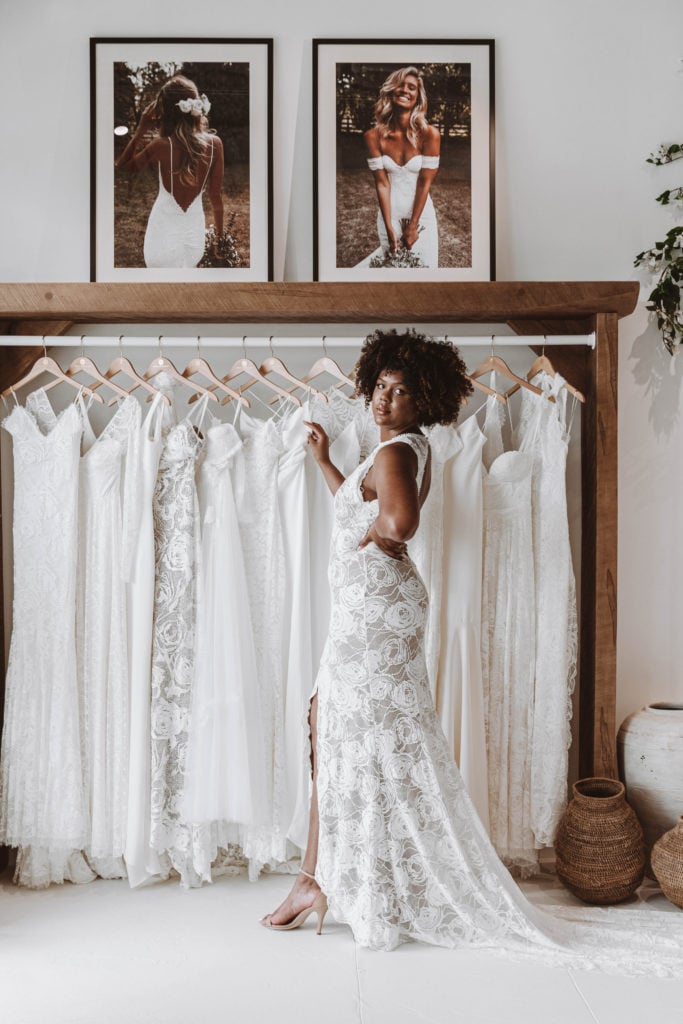 Herman Miller
The purveyor of iconic midcentury designs such as Eames loungers and Noguchi tables snagged a 1,560-square-foot spot (1268 Fourth St., NE) for its first retail showroom in DC, which opened in May. Remote workers looking to up their home-office game can also try out the store's ergonomic-­focused office pieces onsite.
Scotch and Soda
Known for its upbeat designs, the colorful Amsterdam-based clothing brand Scotch and Soda (1301 Fourth St., NE) debuted in Washington in May. Its casual men's and women's collections feature a variety of fabrics and one-of-a-kind prints that give off trendy, vintage vibes.
Somewhere
Sneakerheads rejoice: The Washington-born men's footwear store chose Union Market for its second location (1285 Fourth St., NE), which will sell women's footwear as well. Aside from fresh kicks, you'll find Somewhere apparel and accessories.
Warby Parker
Shop the ever-popular eyewear chain at its latest DC locale, a 1,744-square-foot storefront (1258 Fourth St., NE) between La Cosecha and Blue Bottle Coffee.
Eat & Drink - Inside the market (1309 Fifth St., NE)
Aboveground
Plastered with the Union Jack, a cardboard Queen Elizabeth, and a smorgasbord of British goodies, the year-old stall is hard to miss. Since last summer, it's been serving up proper classics from across the pond, including fish and chips, steak-and-ale pies, and mushy peas.
Banana Blossom Bistro
This Vietnamese cafe built a devoted following at its previous location in Prince George's County's Riverdale Park. At Union Market since March, the bistro offers authentic bánh mì, vermicelli bowls, and spring rolls. Don't miss its hand-squeezed Vietnamese limeade, prepared fizzy or still.
Greenheart
After its success as a pop-up at Union Market, the Virginia juice company opened an indoor stall in May. The stall's modern, minimalist design mirrors its clean-eating menu of cold-pressed juice, activated cashew milk, salads, and sweet-potato waffles.
Sospeso
After opening on H Street in 2017, the Mediterranean cafe expanded in February with this fast-casual sibling. You can grab flaky phyllo pies, hummus bowls, and citrusy housemade vermouth at its Union Market stall.
Eat & Drink - Around the market
Bread Alley
Tucked away in an alley behind St. Anselm, this gem of a bakery sells breads from none other than Le Diplomate. Open since September, Bread Alley (1250 Fifth St., NE) manages to squeeze a selection of crusty French baguettes, sourdough loaves, cranberry-walnut boules, and more into 100 square feet.
Lunas de Buenos Aires
Argentinean twin brothers Martin Lautaro Fontan and Rodrigo Fontan left the legal business for the empanada business when they opened Lunas de Buenos Aires (1276 Fifth St., NE) in March. Previously a Chinese-dumpling manufacturing facility, the Argentinean street-food spot offers gourmet empanadas, choripan, fugazzeta pizza, and alfajores, as well as Argentinean wine and beer.
Do
CocuSocial at La Cosecha
In addition to its recurring dance and calligraphy classes, La Cosecha (1280 Fourth St., NE) recently added cooking lessons—including empanada-making with an Argentine chef—hosted by the culinary-class company CocuSocial. The full schedule is at 
lacosechadc.com/events
.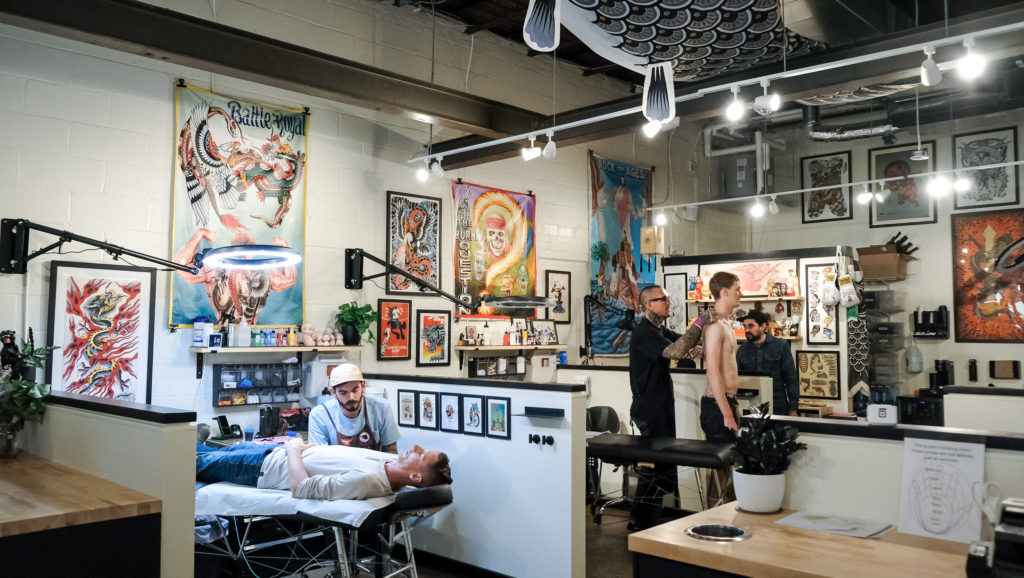 District Tattoo
Open since May, the Union Market district's first tattoo shop (1285 Fourth St., NE) is home to veteran ink artists Billy Bennett, David Cavalcante, Ryan Clarke, and Drew Morgan. They specialize in a variety of styles, including Japanese; black and gray; dot work; American traditional; Polynesian; and fine line.
The Drive-In at Union Market
This summer marks the tenth year that Union Market's white exterior has transformed into an outdoor screen for the annual drive-in movie series. Catch a flick on the second Friday of every month, May through October, by pulling up a chair on Neal Place or reserving a parking spot. Upcoming films include 
Dirty Dancing
 on August 12, 
Encanto
 on September 9, and 
Black Panther
 on October 14.
Glosslab
The celebrity-approved nail chain plans to open its first Northeast DC outpost (1260 Fifth St., NE) by the end of summer. The membership-based, water-less studios are big on hygiene, touting hospital-­grade sterilization methods and single-use tools.
What's Coming
Maman
Expected this fall, the New York bakery chain will bring an all-day cafe (1300 Fourth St. NE) to the neighborhood, decorated with French florals and antique accents. Expect Maman's cult-favorite chocolate-chip cookies and other delights such as pastries, quiches, salads, and sandwiches.
Minetta Tavern
Another Manhattan import is set to arrive in mid-2023. Known for its deluxe Black Label burger with prime dry-aged beef and caramelized onions, the ritzy burger tavern snagged 8,820 square feet (1287 Fourth St., NE) just across from La Cosecha.
Pastis
Stephen Starr—the restaurateur behind Le Diplomate, St. Anselm, and Bread Alley—will transform an unassuming industrial space (1323 Fourth St., NE) into another location of his beloved New York brasserie. If the DC locale is anything like the original, guests can count on indulgent plates of beef bourguignon, escargots, and steak tartare. The two-story eatery is set to debut in the first half of 2023.
A Stephen Starr Mystery
Starr's Union Market district takeover isn't done yet. His restaurant group has also leased 8,700 square feet on the ground floor of the Signal House office building, which opened last year (and counts TikTok as its biggest office tenant). Though the particulars of what the space will hold have yet to be announced, it's scheduled to open in the first quarter of 2023.
What's on the Walls
Union Market's ever-changing streetscape includes its evolving collection of street art. A handful of new murals have recently splashed across buildings.
On the side of 1271 Fifth Street, Northeast, a mural emblazoned with the words "Power to the Patients" spreads public awareness of the new hospital price-transparency rule, which went into effect in 2021. Artists Kaliq Crosby and Pamela Bliss painted it last summer. The work was originally designed by activist/artist Shepard Fairey, and reproductions have been sprouting up across the country.
On the 
Sixth Street side of Union Market,
 "Entrepreneurship Is a Boxing Match" features a poem by DC entrepreneur Shelly Omilâdè Bell, founder and CEO of Black Girl Ventures Foundation. It was painted by artist and activist BMike.
Look upward the next time you walk past Signal House, the new office building at 1255 Union Street. On its terraces' ceilings, you can see "The Seasons," four nature-inspired murals by DC art director Miss Chelove.