Restaurants and bars around the DC area are preparing to make the best of what could be the worst snow storm in the region's recent history. Our food-minded forecast for the blizzard: a flurry of all-day happy hours, hot cocktails, discount dishes, and other specials throughout the weekend. We'll update the lineup regularly, so check back in.
All-day happy hours
Both the Capitol Hill and Arlington locations of David Guas's Louisiana eatery prepare for the storm with all-day happy hours on Saturday and Sunday. Warm up with Cajun turkey chili, to-go or stay ($3 cup; $5 bowl), and 12-ounce beers for $3.
707 6th St., NW
Mike Isabella's Penn Quarter Italian will serve its happy hour menu throughout the snowfall, which include a blood orange rickey cocktail ($6), fried calamari ($5), and more.
777 I St., NW
Victor Albisu's South American steakhouse is offering special "Peruvian ramen" for $15 this weekend, along with an all-day happy hour. And if you  still prefer something cold, you can't go wrong with their margaritas ($6).  
The restaurant opens at noon on Friday, and serves their full happy hour food and drink menu—think $1 oysters, $3 half-pints, $7 Addie's mussels, and much more.
All-day happy hour on Friday and Saturday (starting at 3 pm) includes $6 cocktails, $5 beers and wines, $4 tacos, and $5 small plates. The restaurant also plans to serve brunch on Saturday and Sunday from 11 to 4 with bottomless mimosas and bloody Marys for $25 per person.
2519 Pennsylvania Ave., NW
Get a taste of New Orleans in Foggy Bottom with a variety of specials that include $2 cups of gumbo, $18 Abita beer buckets, and $6 specialty cocktails like hurricanes and sazeracs (Friday through Sunday).
1370 Park Rd., NW
This Columbia Heights vegan haunt will have plenty of food and drink specials, so long as the snow is still falling. Treat yourself to a $3 bottomless coffee, and if it's still cold, warm it up with a shot of whiskey for an extra buck. 
Multiple area locations
All-day happy hour on Friday!
Logan Circle and Capitol Hill locations
More all-day happy hour on Friday!
Masala Art (SW Location)
The bar remains open during the storm with all-day happy hour Friday through Sunday, plus $5 appetizers and a limited food menu.
Joe's Seafood, Prime Steak & Stone Crab
750 15th St., NW
If federal offices shut Friday, Joe's will roll out a cocktail hour complete with sandwiches, half-priced oysters, and half-off signature drinks, including the Pimm's cup (normally $12). The specials will roll into Saturday if it keeps snowing.
Dupont, Capitol Hill, and Alexandria locations
Head to the Dupont location if you're looking for a happy hour that kicks in as soon as the first flake drops this weekend. You can also go to Capitol Hill for a Friday evening happy hour with $2 Narrangansett Milk Stouts, or if you're looking for $1.25 Oysters all day Saturday, head to Hank's in Old Town. 
819 Upshur St., NW
Petworth's newest bar from the Hank's team will have a happy hour all weekend. Try a $5 Angostura hot cider, $4 bubbly, or a $2 Mexicali pilsner. 
1077 Thomas Jefferson St., NW
The Graham hotel cocktail bar plans to open at 10 am on Saturday for all potentially snowbound Georgetown residents, serving breakfast and happy hour all day and night, plus $5 Irish coffees.
450 K St., NW
Drop by all day Friday and Saturday for happy hour specials like pots of mussels for $10 and $6 specialty beers.
555 Eighth St., NW
The Penn Quarter hotel restaurant serves all-day happy hour on Saturday and Sunday, plus extra specials from 2 to 5 like $6 fries, $10 burgers, and $6 rustic chicken noodle soup. You can slo sip $15 glasses of Veuve Clicquot Champagne by the glass.
All-day happy hour Friday with $6 draft beers and $1 local oysters.
1940 11th St., NW
Happy hour runs all night on Friday, where you'll find 20 wines by the glass for $5, mulled wine ($8), $5 beers, and discounted snacks.
501 Florida Ave., NW
All-day happy hour runs from 11 to close, featuring $5 homemade vermouths and Miller High Life, and $7 classic cocktails and wines.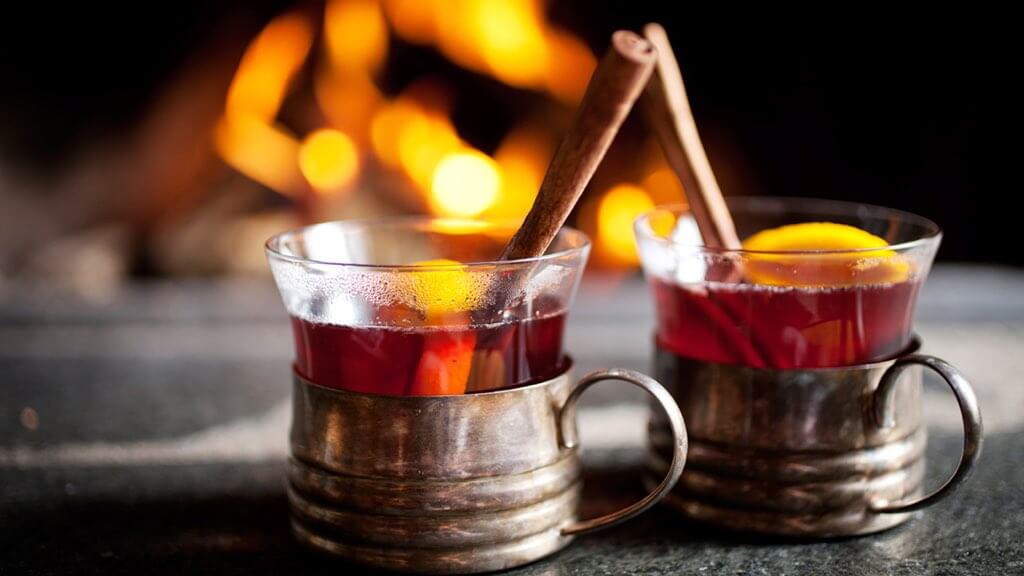 Hot cocktails
1905 9th St., NW
Warm up in Shaw with three specialty hot cocktails: the "fireplace cocoa" with rye, brandy, and house made marshmallows; a spiced rum with brown sugar and cardamom; or a harvest tea with cinnamon and apple-flavored bourbon (all $12).
2031 Florida Ave., NW
When the snow falls, grab an $8 "adult" hot chocolate at McClellan's, which will open earlier than usual (2 pm) if the rest of the city shuts down. 
8630 Fenton St., Silver Spring
Looking to sip a tasty hot cocktail before the big storm hits? All Set's serves a $6 hot toddy through the weekend, made with Old Overholt rye, mint syrup, bitters, and allspice. 
523 Eighth St., SE
Try a specialty Serbian hot cocktail for 50% off: Sumadija hot tea with plum rakia, Becherovka liqueur, and caramelized sugar ($5).
1101 Fourth St., SW
On special: chili ($7) and homemade glogg ($12).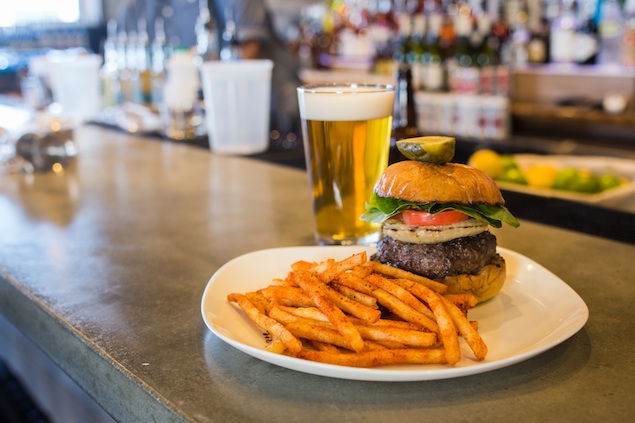 Discount checks
Guests at this Alexandria neighborhood spot get 1% off their checks for every inch of snow that falls.
425 Seventh St., NW
Penn Quarter's Italian-American restaurant offers 25% off all carryout orders, Thursday through Sunday. The family-style portions of dishes like lasagna and pasta with meatballs are made to feed a snowbound crowd. No discounts are offered for dine-in or alcohol.
777 Sixth St., NW
This Penn Quarter wine bar will offer 1% off checks for every inch of snow that falls, Friday and Saturday, 5 to close.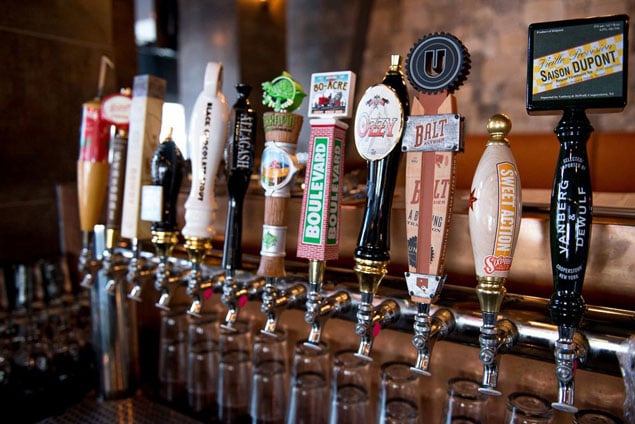 More food and drink specials
2106 Vermont Ave., NW
Drop by on Saturday for free wings with the purchase of any beer from 2pm to 4 pm, as well as $8 spiked ciders all day.
1817 Columbia Rd., NW
Channel the beach with 50-cent wings and boozy apple cider ($5), starting at noon on Saturday.
1540 N. Capitol St., NW
The price of draft beers goes down by 25 cents for each inch of snow that falls ($2 minimum).
2501 Columbia Pk., Arlington
Happy hour runs from noon to 9 on Friday, and for the rest of the weekend you'll find $5 winter cocktail specials like homemade peppermint cocoa, Irish coffees, and Jameson shots.
1612 14th St., NW
The restaurant serves its regular Friday afternoon lunch, followed by a special happy hour from 3 to 7 with $5 wine, half-off beer, $7 vodka martinis, two-for-one oysters, and $11 mussels.
2609 24th St., NW
This Woodley Park neighborhood joint plans to stay open through the storm with $2 off beer, wine, and cocktails, plus food specials and Saturday/Sunday brunch. An extra perk: the wood-burning fireplace.
1320 14th St., NW
Look for an extended bar menu Friday and Saturday, plus Mexican hot chocolate (hot cocoa, mezcal, ancho chili, green chartreuse marshmallow) for $10 and hot buttered bourbons (mulled cider, bourbon, maple- walnut syrup, spiced butter) for $9.
1423 P St., NW
Head in Friday for $6 House bloody Mary's all dad, as well as $7 spiked Mexican hot chocolates.
1443 P St., NW
The Logan Circle eatery will play NFL Conference Championship games on the projector this weekend, and offer the following specials, Friday through Monday: $4 spiked hot cocoa and a Natty Boh combo (beer and a shot), plus $5 veggie and beef burgers.
1914 Ninth St., NW
The Grotto bar runs happy hour all weekend through Monday night, serving "hot and stormy" cocktails for $8, wine for $6, and local drafts for $4, plus half-priced antipasti. In the dining room you'll find discount wine (33% off on bottles $50 or more).
1500 New Hampshire Ave., NW
Here's something different: a Star Wars-themed snow bar on Sunday from 11 to 4, created to accompany the annual Dupont Circle Snowball fight. Here you'll find spiked "hot chewbacculate" ($7), "hutt toddies" ($12), and $3 cookies. Anyone dressed in space attire will be entered into a raffle. Hey, millenials…
Multiple area locations
Irish coffees go for $5 all weekend at all five DC area locations.
1330 U St., NW
You'll find 80's snow-themed movies and specialty hot cocktails on Friday and Saturday all day. Wear a tacky snow hat and win a free cocktail.
2007 18th St., NW
Happy hour runs 5 to 8 on Friday and Saturday with $8 spiked cider and buttery bourbon, $5 drafts, $6 wines, and half-priced snacks such as crispy chicken skins.
1351 H St., NW
Sister ramen joint Toki Underground is closed all weekend, so Maketto will serve bowls of the hot noodle soup, Friday through Sunday, as well as their regular menu. Shoppers in the retail store will find 50% sales.
974 Palmer Alley, NW
Head to Centrolina's bar on Saturday starting at 1 pm for discounts on a variety of red and white wines, and Delamotte Champagne. You can also snag bombolini pastries and get free marshmallows with every hot chocolate purchase. 
901 Ninth St., NW
If you're going to get snowed in this weekend, you might as well hole up to the tune of warm cookie dough and spiked hot cider, both $7. The bar will also have plenty of board games, including Jenga and Connect Four, to keep you occupied.
108 Rhode Island Ave., NW
Bloomingdale's Mexican spot plans to be open snow or shine this weekend, with special nachos for $11 and Sonoran hot dogs for $9. The bar also plans to show the playoff games Sunday. 
The neighborhood restaurant plans to open for regular brunch on Saturday and Sunday. Friday brings spiked cider and hot chocolate at the bar ($12), and  a beer-braised brat special ($14).
301 Water St., SE
Navy Yard's barbecue joint offers "six dollar snow daze" specials: Texas-style beef chili, spiked cider, hot toddies, and more, all for $6 (Friday through Sunday).
Multiple area locations
Stop by on Friday for $6 sandwiches, dine-in only, including roast beef, turkey, and hummus.
Glover Park location only
Get a free cup of tortilla soup with any entree purchase, and chase it all down with half-price margarita pitchers.
2121 P St., NW
Head in for the following specials on Friday and Saturday, starting at 3: $5 margherita pizzas; $7 boilermakers (shot of Fernet on tap and a Peroni); $7 hot cocktails.
1310 New Hampshire Ave., NW
Grilled cheese and warm soup go for $5—as does a hot cocktail of the day—on Friday from 4 to 7 pm, and Saturday 4 to 6 pm.
2404 Wisconsin Ave., NW
Drop by the Glover Park wine bar on Friday and Saturday for a winter deal: one snack and one drink for $10 (noon to 7 pm) or $15 (7 pm to 10 pm).
2761 Washington Blvd., Arlington
As soon as the Federal Government closes you'll find a two-for-one special on side dishes at this barbecue joint.