What to Do
While the lineup of musical acts—including blues and jazz, yes, but also Motown, rock, Celtic, Afrofunk, and more—is the real draw, the 1930s Art Deco building, which recently underwent an $8-million renovation, is itself a marvel. Its intimate size, with room for 300 at dinner tables and 200 in performance seating, makes it tough to find a bad view of the stage. 7719 Wisconsin Ave.; 240-330-4500.
The fact that summer's winding down doesn't mean weekends at the farmers market have to. More than a hundred vendors gather every Sunday on the campus of Bethesda Elementary School for this year-round market. You'll find typical locavore fare—homemade cheeses, granolas, spice blends—along with balloon animals, pottery, and live music. Parking is free in the school lot or across the street at the county garage. 7600 Arlington Rd.
From the turn of the century until the mid-1980s, this 11-mile route through the woods was traversed only by a weekly freight train hauling coal and building materials into DC. Today, the paved path stretching from Georgetown to Silver Spring via downtown Bethesda is a destination for bikers, runners, and walkers. Its historic bridges, shady tunnels, and Potomac River views can make you forget you're inside the Beltway.
Among the nation's most respected children's theaters, Imagination Stage offers acting classes, hosts summer camps, and commissions original shows every year from renowned playwrights (a rarity for a children's theater). You'll also find adaptations of familiar titles, such as Beauty and the Beast coming later this year. 4908 Auburn Ave.; 301-961-6060.
Top indie films with none of the indie-theater shabbiness. Moviegoers can munch on olive-oil-roasted chickpeas and sip espresso or Cabernet while kicking back in sumptuous leather seats. All of the screens are brand-new, too. 7235 Woodmont Ave.; 301-652-7273.
This 395-seat theater has what a lot of directors seek in their actors: range. Its current season includes productions of two Tony Kushner works—his groundbreaking, two-part AIDS drama, Angels in America, and the musical Caroline, or Change—plus the new comedy Or. Round House also has an extensive roster of acting classes for kids and adults. 4545 East-West Hwy.; 240-644-1100.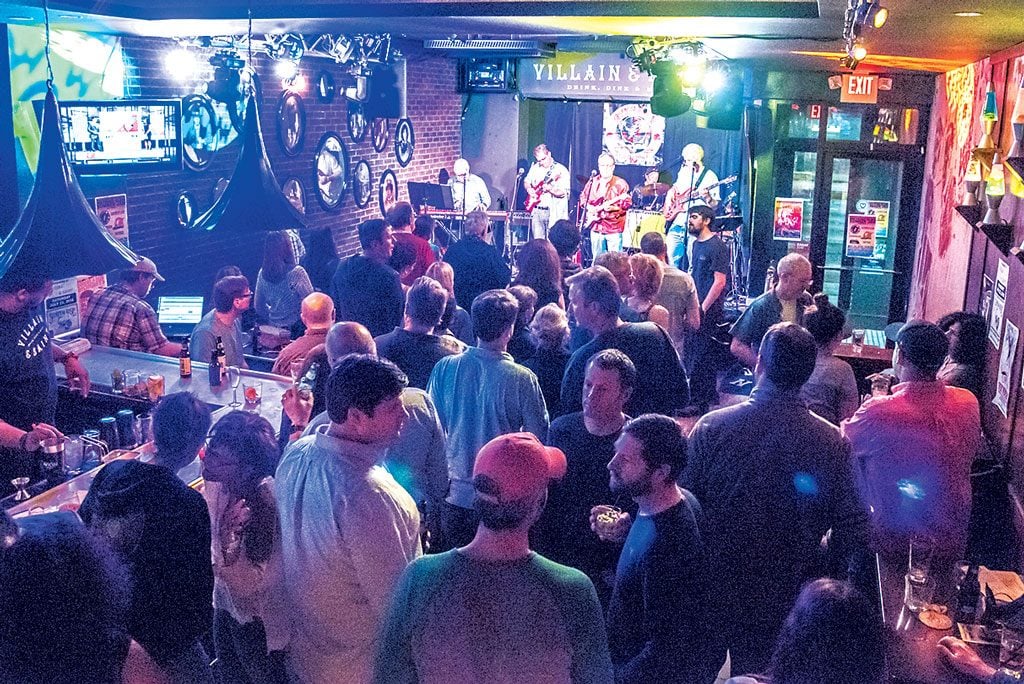 Rock bands perform here nearly every night. The lava lamps and psychedelic murals nod to the heyday of San Francisco's Haight-Ashbury, but chef Robert Wiedmaier's upscale gastropub menu—calamari, zucchini pancakes with salmon, crabcake sandwich—is pure Wisconsin Avenue. Drinks are reasonably priced, especially the $12 beer buckets on weekend afternoons. 7141 Wisconsin Ave.; 240-800-4700.
The spacious gallery in the heart of Bethesda is a cooperative of nearly 20 contemporary artists, including painters, photographers, sculptors, printmakers, potters, and jewelers. It hosts a reception the second Friday of every month as part of the Bethesda Art Walk, in which visitors gallery-hop around local art spaces. 4600 East-West Hwy.
Where to Shop
The local beauty shop turned national chain remains a top spot for makeup, hair products, and skin care. Alongside well-known brands such as Nars, Estée Lauder, and Bobbi Brown, the store sells founder Marla Malcolm Beck's M-61 line of skin-care products as well as her more recently launched paraben-free makeup collection, Lune & Aster. 7105 Bethesda La.; 301-986-0070.
This is a one-stop shop for men's workwear, with reasonably priced chinos in an array of colors and patterned dress shirts to elevate a guy's wardrobe beyond blue and white button-ups. Suits come in standard wool as well as lighter fabrics such as chambray and seersucker. You won't leave with your purchases—a Bonobos "guide" walks you through the merchandise, helps you order the right styles and fit, then has them shipped to you. 4836 Bethesda Ave.; 301-986-7949.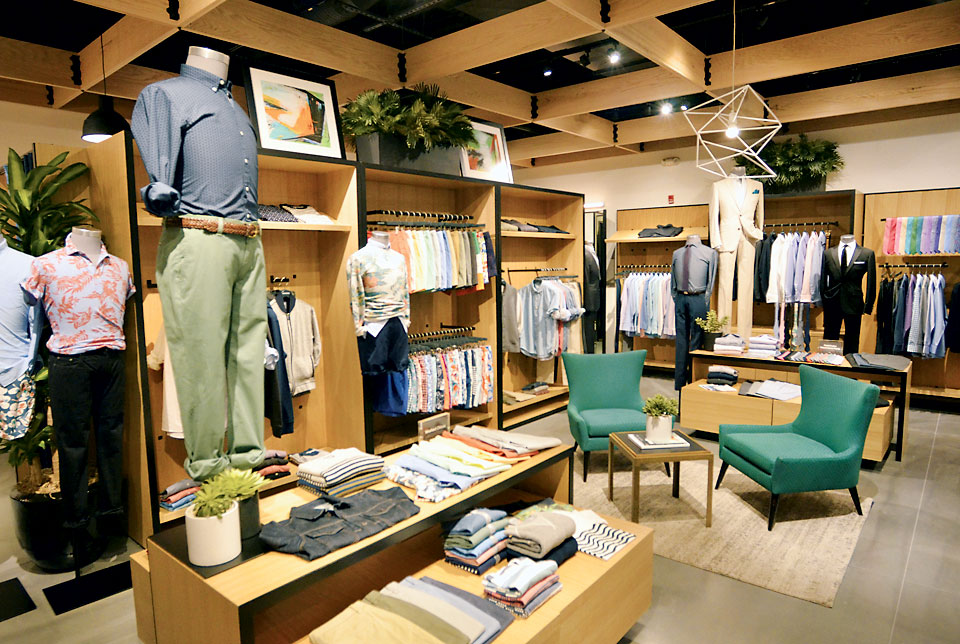 With its brightly hued, chunky costume jewelry—appealing to bohemian and preppy tastes alike—the Austin-born line has grown into a national chain. At its Bethesda Row store, open since last year, choose from stock pieces or customize your own earrings, necklaces, bracelets, and rings at the Color Bar—where you can pick stones that come in a multitude of shapes and sizes as well as 23 shades. 4835 Bethesda Ave.; 240-743-2428.
Much of the apparel at the Canadian chain—open in Bethesda since last fall—is made of its proprietary "technical cashmere." Women's shirtdresses and draped blouses and men's trousers and button-ups are nice enough for business casual but comfy enough that you won't want to take them off the minute you get home. 4838 Bethesda Ave., Suite 16; 844-548-6223.
It always looks like summer inside this Lilly Pulitzer–packed boutique, a reliable resource for year-round women's and girls' resortwear. Shift dresses in tropical prints and floaty blouses in neon colors dominate, but the store also offers a selection of preppy jackets and other cool-weather staples by Barbour. 4867 Bethesda Ave.; 301-913-9191.
Washingtonian Sassy Jacobs and New Yorker Sarah Cannova love shoes so much that they opened a boutique dedicated largely to their favorite wardrobe item. Today it's one of the few locally born-and-bred women's shops left in Bethesda—especially after Ginger Boutique shuttered last year. Sassanova's shelves, though, are stocked with national brands, such as Rebecca Taylor, Cooper & Ella, Jack Rogers, and Joie. 7134 Bethesda La.; 301-654-7403.
The colorful treats of your youth have been reenvisioned at this grown-up candy store, whose delicate clear boxes are designed to be the kind of thing you can't wait to put on Instagram. Sweets come in varieties such as Rosé All Day gummy bears, Fruity Loops chocolate-covered cereal, and beer-glass-shaped gummies dubbed Pale Ale Pints. 4808 Bethesda Ave.; 240-630-2332.
With shopping malls dying out across the country, Westfield Montgomery undertook an ambitious $100-million renovation to avoid the same fate. Completed in 2014, the makeover brought an expanded dining area and a luxury movie theater that can turn a day of shopping into date night. You'll find mall staples such as J. Crew, Zara, and Banana Republic as well as Nordstrom—and the high-end reinvention continues to attract new businesses: José Andrés's vegetable-focused fast-casual chain, Beefsteak, just opened there. 7101 Democracy Blvd.; 301-469-6000.
Where to Eat
Mussels, duck nachos, raw oysters, and other hallmarks of a Jeff and Barbara Black establishment are on display at this clean-lined mod-American dining room. The kitchen is particularly good with the fryer, turning out cornmeal-crusted oysters and airily battered calamari. Stop in for happy hour—weekdays 3 to 7—for $4.75 drafts of local beer and $5 glasses of wine, plus a short list of discounted snacks. 7750 Woodmont Ave.; 301-652-5525.
For a place as restaurant-crammed as downtown Bethesda, one thing has been missing—a good, reliable bakery. Not anymore. Stop into this sunny French-style spot for lovely little fruit tarts (raspberry with custard, lemon meringue), sandwiches, breakfast pastries, and yes, many varieties of baguettes—some seeded with poppies and sesame—as well as other breads. 4919 Bethesda Ave.; 301-656-0000.
This New York–inspired Jewish deli isn't perfect, but the corned beef and pastrami—both made in-house—make up for most sins (including so-so latkes). Our tip: Home in on the hearty sandwiches such as the classic Reuben, comforting matzo-ball soup, or smoked-fish platters decked out with all the fixings and chewy Bethesda Bagels. Breakfast runs all day, as does the not-your-average-deli bar, meaning you can match your kippered salmon with a Manhattan. 4914 Cordell Ave.; 240-800-4879.
Searching for a hidden gem? Try this tiny sushi counter in the back of a Japanese grocery, lined with four stools. (A handful of tables provide extra seating.) Classic rolls and nigiri are made to order and take some time—all the more excuse to browse the aisles of Asian candies, crackers, noodles, and condiments. Artful assortments such as the chirashi—a bouquet of beautifully sliced fish and vegetables over rice—are worth the wait. 4947 St. Elmo Ave.; 301-656-1009.
The most exciting place to hit the Bethesda restaurant scene this year has been Mike Isabella's boisterous Greek taverna. Folks pile in to share dips (the smoked eggplant is our favorite), oval flatbreads topped with crab and tzatziki, and skewers of souvlaki. One easy way to organize your meal is to center it around a whole fried chicken, served with harissa honey for dunking. 4900 Hampden La.; 301-986-8500.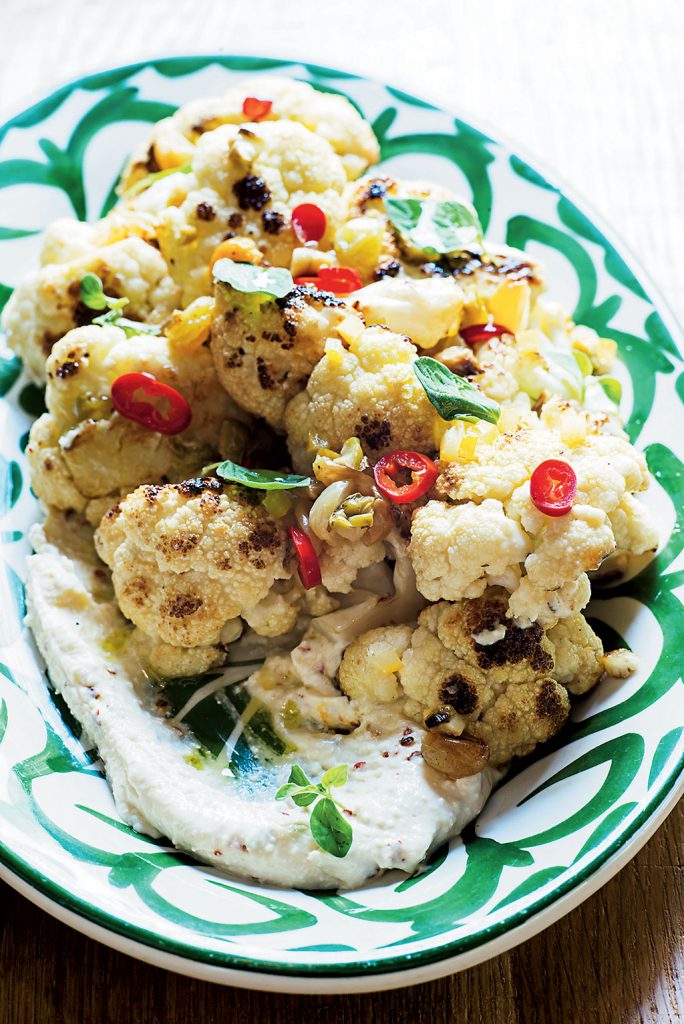 A longtime fishmonger and a new neighboring butcher shop offer the best of sea and land. Hit the seafood stand, Pescadeli, for an eclectic array of fresh fin fare—including a large selection of whole fish—plus Spanish specialty items such as salt cod, cured hams, cheeses, and olive oils. The focus skews more local across the street at Butchers Alley, where you'll find farm-stand produce, smoky bacon, thick steaks, grill-ready burgers, and Stachowski sausages. Pescadeli, 4960 Bethesda Ave., 301-841-8151; Butchers Alley, 4961 Bethesda Ave., 240-855-0121.
Downstairs, a bakery/cafe proffers macarons and to-go sandwiches, while upstairs, a full-service dining room and roof deck are particularly nice during the day. We liked a nutmeggy quiche Lorraine and a bountiful salad with poached pears and a wedge of blue cheese, but the real highlights are on the bistro's dessert menu, which features the kind of sweets you don't see much anymore, such as a pistachio-studded nougatine and walnut dacquoise. 4611 Sangamore Rd.; 301-229-8180.
The local Silver Diner chain's upscale sibling beckons with a something-for-everyone menu. Sworn foodies shouldn't dismiss the general appeal—we've had better meals here than at some of the edgier eateries in town. Expertly mixed classic cocktails, including a rye old fashioned, play to the Art Deco decor, and thick shakes are worth the calorie splurge. The kitchen shows equal skill with tuna tartare and crisp-crusted chicken pot pies, diet-friendly seared salmon, and indulgent huevos rancheros with bison-chorizo hash. 7150 Woodmont Ave.; 301-652-9780.
The restaurant once known as Houston's woos a steady stream of customers—if you don't have a reservation, expect to wait an hour-plus most nights—with touches like warm service, an evening jazz trio, and ample booth seating. The remarkably consistent kitchen has, since 1992, turned out some pretty terrific ribs and crabcakes alongside the area's best veggie burger. Don't miss sides such as a parsley-heavy chopped slaw and a kale salad with mint and peanuts. 7715 Woodmont Ave.; 301-656-9755.
This article appears in our September 2016 issue of Washingtonian.
Questions or comments? You can reach us
on Twitter
,
via e-mail
, or by contacting the author directly: