Alara
1303 Wisconsin Ave., NW
Hakan Ilhan—also behind DC's Ottoman Taverna and Il Piatto—is turning the Paolo's space in Georgetown into an all-day Mediterranean dining room. When it opens in February, the cuisines of Greece, Israel, Lebanon, and Turkey will mingle on the menu and the interior will be done up with arches and clay tones. Ilhan's other priorities: "a strong happy hour and a playful brunch."
Back to Top
Amparo Fondita
2002 P St., NW | Website
Coastal Mexican food is the focus at this Dupont restaurant from ex–Muchas Gracias chef Christian Irabién. Look for a menu filled with fresh, herbaceous flavors, plus dishes such as striped bass wrapped in collard greens with adobo; shrimp with Maryland crab and salsa Campechana; and painstakingly prepared heirloom black beans.
Back to Top
Astro Beer Hall (Shirlington)
4001 Campbell Ave., Arlington | Website
The two-level Metro Center beer hall adjacent to Astro Doughnuts is getting a Virginia twin come September. The sports bar with a spacious patio at the Village at Shirlington will feature fried chicken and doughnuts along with 24 taps of mostly local beer. Also look for pool tables, arcade games, and weekend brunch.
Back to Top
Atlas Brew Works (Alexandria)
2429 Mandeville Ln., Alexandria
DC craft brewer Justin Cox will open a roomy third location of his Atlas Brew Works—his first in the suburbs—later this year in Alexandria's Carlyle Crossing development. It'll have a 1,500-square-foot patio, 16 draft selections, and New York–style pizzas from local chainlet Andy's.
Back to Top
Aventino Cucina/AP Pizza Shop
4747 Bethesda Ave., Bethesda
After months of delays, the All-­Purpose and Red Hen team's two-level Bethesda restaurant looks ready for a November debut. Chef Mike Friedman's menu leans Roman, with dishes like Jewish-­style fried artichokes, polenta-crusted fluke, and housemade gelato. An emerald­green-and-marble bar is the place to down Italian wines, spritzes, and Negronis. Neighboring AP Pizza Shop is on a similar timeline and will feature Jersey-style pizza and an Italian-accented Cubano sandwich with porchetta, fontina, and pickles.
Back to Top
Baan Mae, Met Khao, and Padaek
1604 Seventh St., NW; 6395 Seven Corners Center, Falls Church; 2931 S. Glebe Rd., Arlington | Website
Chef Seng Luangrath, DC's unofficial ambassador of Lao cuisine, is revamping a few of her celebrated Southeast Asian eateries. Padaek, the Falls Church strip-mall spot near the Eden Center, will become Met Khao, a fast-casual bistro with a smaller menu. Meanwhile, a new version of Padaek will open in South Arlington. And Luangrath's short-lived Shaw bar Hanumanh will reopen as Baan Mae, a Southeast Asian restaurant with dishes like sweet and funky braised kurobuta pork ribs and crab curry with lychee.
Back to Top
Bar Japonais
1520 14th St., NW
The owners of French-Chinese Bar Chinois in Mount Vernon Triangle are going French-Japanese for their next venture, in the former Estadio space on 14th Street. Izakaya staples, sushi rolls, and crudo will be offered alongside French wine, sake, and cocktails in a low-lit, vibey atmosphere. It's set for an early-2024 opening.
Back to Top
Eggholic
1990 M St., NW | Website
Egg-centric Indian fast food is on the rise in America, and soon DC residents will get a chance to try "eggetarian" Gujarati street fare such as a grilled sandwich filled with chopped eggs, cheese, cucumber, and bell peppers or a hard-boiled-egg curry topped with fried eggs—Eggholic already has one location in Chantilly.
Back to Top
El Presidente
1255 Union St., NE
The latest in a series of Union Market restaurants from Le Diplomate's Stephen Starr is a love letter to Mexico City. The seafood-centric spot, which opened Wednesday, boasts a big raw bar offering Baja­ style oysters with salsa negra, plus several guacamole riffs using Michoacán avocados. The whimsical bar menu features more than 150 tequilas and mezcals.
Back to Top
Grazie Mille
1100 15th St., NW
The owners of Grazie Nonna* are taking over the Little Chicken space in Midtown Center. But Grazie Mille, their new endeavor, won't bear much resemblance to its full-service Italian American sibling. The lounge, bar, and private dining/event space will debut in the fall with cocktails and cicchetti—diminutive Venetian aperitivo snacks.
*Correction: This post originally stated that the owner of Grazie Grazie sandwich shop—Casey Patten— will open Grazie Mille. In fact, it's the owners of Grazie Nonna—Patten and Gerald Addison— that are behind the forthcoming restaurant/lounge.
Back to Top
H&H Bagels
Locations to be announced | Website
The legendary Upper West Side bagel bakery is expanding to our area late this year with ten franchise stores inside the Beltway. Beyond the bagels—which will be par-baked and flash-frozen in Queens, then shipped here—expect several schmears, a variety of smoked fish, and breakfast sandwiches.
Back to Top
The Heights
5310 Western Ave., Chevy Chase | Website
This soon-to-open, 10,000-square-foot Friendship Heights food hall from Common Plate Hospitality (Urbano 116, Mason Social) will host an international mix of big names and rising talents across its eight stalls, plus an adjoining speakeasy-­style bar. Among the highlights: a sushi-centric concept from former Moon Rabbit chef Kevin Tien, vegan Indian street food from DC Dosa, Texas-style barbecue, a Jewish-­inspired deli, and more.
Back to Top
Hiraya
1250 H St., NE | Website
Chef Paolo Dungca, who has cooked for hit Filipino restaurants including the late Bad Saint and Pogiboy, will put a modern spin on his family's recipes—think foie-gras-and-shrimp dumplings and ube lumpiang rolls stuffed with root vegetables and tofu skins—at this place of his own on H Street. The fall debut will also include a ten-seat chef's counter with a $95 tasting menu.
Back to Top
I Egg You
517 Eighth St., SE | Website
This ode to the breakfast sandwich from Anju and Chiko chef/owners Danny Lee and Scott Drewno began as a pandemic pop-up. The full-service restaurant version, slated for a September opening, will serve breakfast items both healthy and hangover-friendly, plus lunchtime sandwiches such as a turkey club that Drewno says took six months to perfect. Also in the works: a bar with "every breakfast and brunch cocktail you can possibly imagine," Drewno says. At night, it'll turn into a private event space called the Shell, which will tap into the pair's growing catering operation.
Back to Top
La Bonne Vache
3265 Prospect St., NW
Booeymonger, the long-running corner deli on a Georgetown side street, closed in April. This month, the space will get a trendier French successor. The lunch-and-dinner brasserie—helmed by veteran chef Rob Aikens, wife Rachel, and Ari and Claire Wilder—focuses on "steak haché" burgers with French toppings such as croque madame (ham, Gruyère, and fried egg) and truffle Brie, plus a generous selection of salads and appetizers.
Back to Top
Medina
1328 Florida Ave., NW
Rose Previte, the restaurateur behind the Middle Eastern hits Maydan and Kirby Club, will open a Shaw cocktail bar this fall that transports guests into a Bedouin tent. The menu will include an absinthe tea service as well as snacks such as Tunisian brik, a crispy stuffed pastry.
Back to Top
Minetta Tavern
1287 Fourth St., NE | Website
Restaurateur and Instagram provocateur Keith McNally—the hit­maker behind Manhattan's Balthazar and Pastis—is bringing his "Parisian steakhouse meets classic New York City tavern" (and its famed "black-label" burger) to the Union Market area this January. Unique to the Washington location: an ornate semi­­private upstairs lounge dubbed the Lucy Mercer Room, in honor of FDR's mistress.
Back to Top
Neutral Ground
6641 Old Dominion Dr., McLean
Bayou Bakery chef David Guas is straying from his native New Orleans cuisine at his first full-service restaurant, set to open early next year in downtown McLean. The seasonal American menu will focus on wood-fired cooking, with pork chops, flame-roasted oysters, and anchovy pasta. Guas's popular pimiento cheese will make an appearance, too.
Back to Top
Omakase@Barracks Row
522 Eighth St., SE
The omakase-bar trend continues with this second-and-third-floor place, set to open in late September. It's the creation of Sushi Nakazawa alum and chef Ricky Wang and restaurateur Chris Zhu (also behind the downstairs dim sum house, Han Palace). The 18-course tasting menu—$150 a person—will be filled with sushi, hand rolls, and other Japanese specialties. Want a preview? Head to sister restaurant Ginza on Monday and Tuesday nights for a pop-up version.
Back to Top
Pastis
1323 Fourth St., NE | Website
In addition to opening Minetta Tavern, Keith McNally and Le Diplomate restaurateur Stephen Starr will replicate their buzzy Meatpacking District bistro near Union Market, slated for a December opening. Lobster frites, onion soup, roast chicken, and other favorites will carry over from the original NYC location's menu.
Back to Top
San Pancho
7056 Carroll Ave., Takoma Park
San Francisco–style burritos on thin, Sonoran­-style flour tortillas, are the thing at this all-day eatery, which replaces sister restaurant Cielo Rojo this fall (that Mexican cafe is moving to a bigger space nearby). Get them stuffed with scrambled eggs, pinto beans, and sautéed onions and poblanos in the morning, or fillings like chicken mole, salmon, or carnitas later in the day. There are frozen margaritas, sandwiches, and vegan and vegetarian burritos too, with add-ons including cashew cream, charred habanero peppers, and arbol salsa.
Back to Top
The Square
1850 K St., NW | Website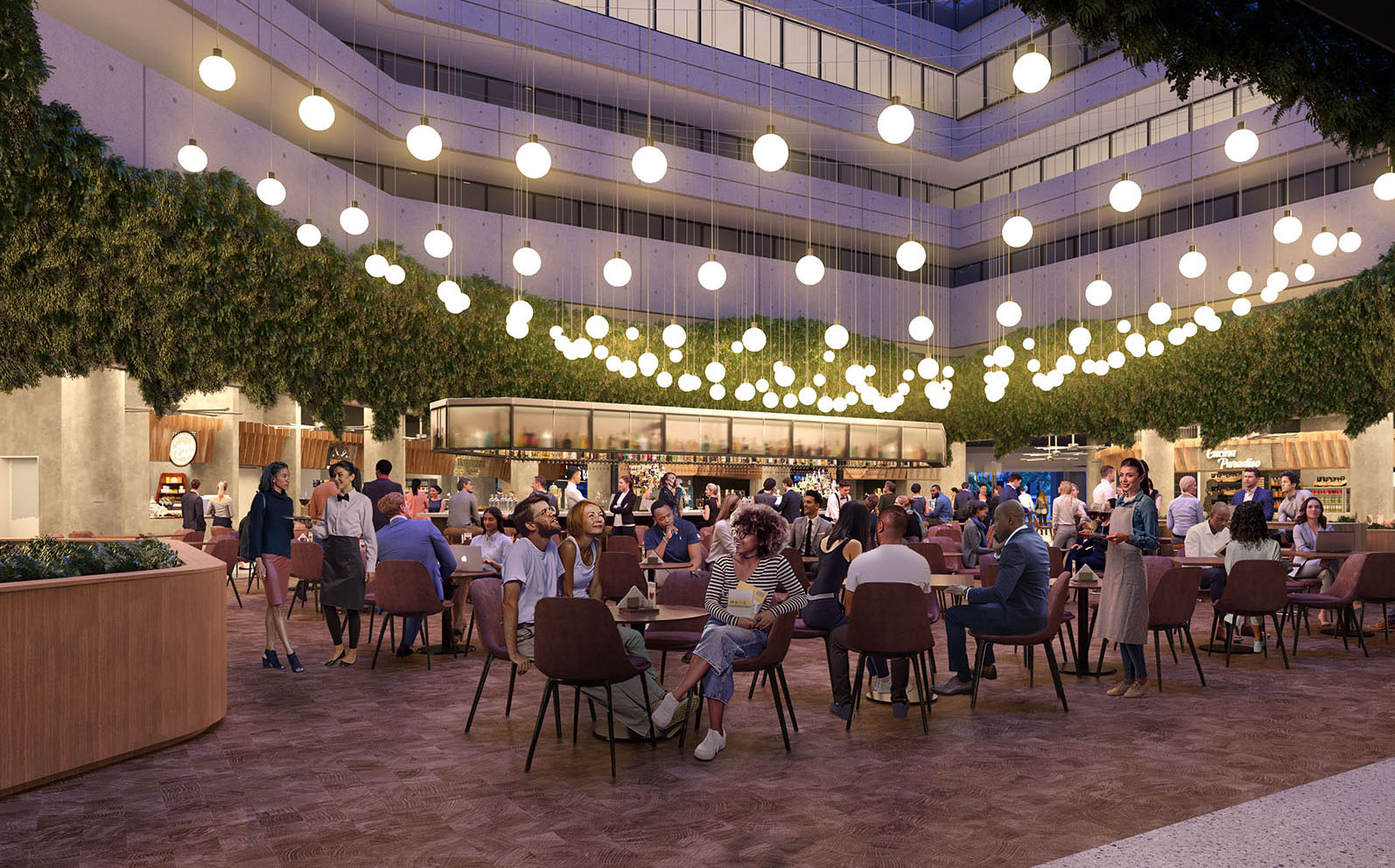 This sprawling downtown DC food hall, jam-packed with top talent, opened this week. Ex-Minibar star Ruben Garcia is heading the Spanish restaurant Casa Teresa; the founders of Cashion's Eat Place and Johnny's Half Shell are running an oyster counter; the team behind the Shaw Peruvian hit Causa will serve ceviche and cocktails; former Sushi Nakazawa chef Masaaki Uchino is slicing up raw fish; and onetime Sweet Home Cafe chef Jerome Grant will turn out Afro-­Filipino barbecue. And that's just the start.
Back to Top
Two Nine
1218 31st St., NW | Website
Couple Zach Ramos and Amy Phan have built a devoted following for their pandemic-­born pop-up, Ama Ami, which crafts stunning takeout chirashi bowls and private "homakase" feasts. This fall, their talents will get a bigger platform with a Japanese cafe and omakase counter in Georgetown.
Back to Top
2Fifty
414 K St., NW | Website
The region's best barbecue joint will bring its American Wagyu brisket and Latin-­influenced sides to Mount Vernon Triangle this January. Owners Debby Portillo González and Fernando González will continue to smoke Texas-style meats at their flagship Riverdale Park location, but their long-term goal is to build a smokehouse in the back of the DC restaurant.
Back to Top
Vesper
222 M St., NE
Masseria chef Nick Stefanelli has already opened a French brasserie, Le Clou, and rooftop lounge at the luxe Morrow hotel in NoMa. Coming this fall: a sultry cocktail bar with live go-go and bossa nova music. The lavish food menu will pair with weekend tea and bubbly from a Champagne cart custom-made in France.
Back to Top
Wagshal's Grand Bodega
6124 MacArthur Blvd., Bethesda | Website
The historic Bonfield's Garage, a charming time capsule of a space, became a spinoff of the venerable Spring Valley market/butcher/deli Wagshal's in late August. It features a meat counter, fresh seafood, deli sandwiches, fancy charcuterie, and a new location of sister spot Pitmasters Back Alley BBQ. Try smoked brisket, Ibérico-pork costillas, and broasted chicken on the 60-seat patio.
Back to Top
Your Only Friend
1114 Ninth St., NW | Website
Columbia Room alums Paul Taylor and Sherra Kurtz are spinning a pandemic sandwich pop-up into a playful Shaw sub shop and cocktail bar later this fall. Expect mortadella-and-mozzarella-stuffed Italian subs, "cafeteria-style" burgers, and deli-influenced drinks such as a celery gimlet and rye-bread old-fashioned. We hear there's even going to be a Duke's-mayo-inspired stained-glass window.
This article appears in the September 2023 issue of Washingtonian.