There's something for everyone in Shaw. In this historic neighborhood—loosely contained by Florida and New Jersey avenues and 11th and M streets, Northwest—a diner known for chitterlings coexists with a posh sherry bar. Nearby, an Ethiopian market sells berbere spice mix. A few blocks away, the City Market at O, a striking symbol of the area's gentrification, houses luxury apartments equipped with a massage room, rooftop dog park, and infinity pool.
This isn't how it's always been. Settled partly by former slaves in the 1860s, Shaw was a cultural hub of the city's African-American community. The neighborhood is named after Robert Gould Shaw, a white colonel whose leadership of the first all-black regiment during the Civil War inspired the movie Glory. After a period fraught with violence and deterioration in the 1960s, a resurgence starting in the '90s led to a spike in real-estate prices and development. Now Lululemon types shop alongside the few remaining old-timers at the corner CVS.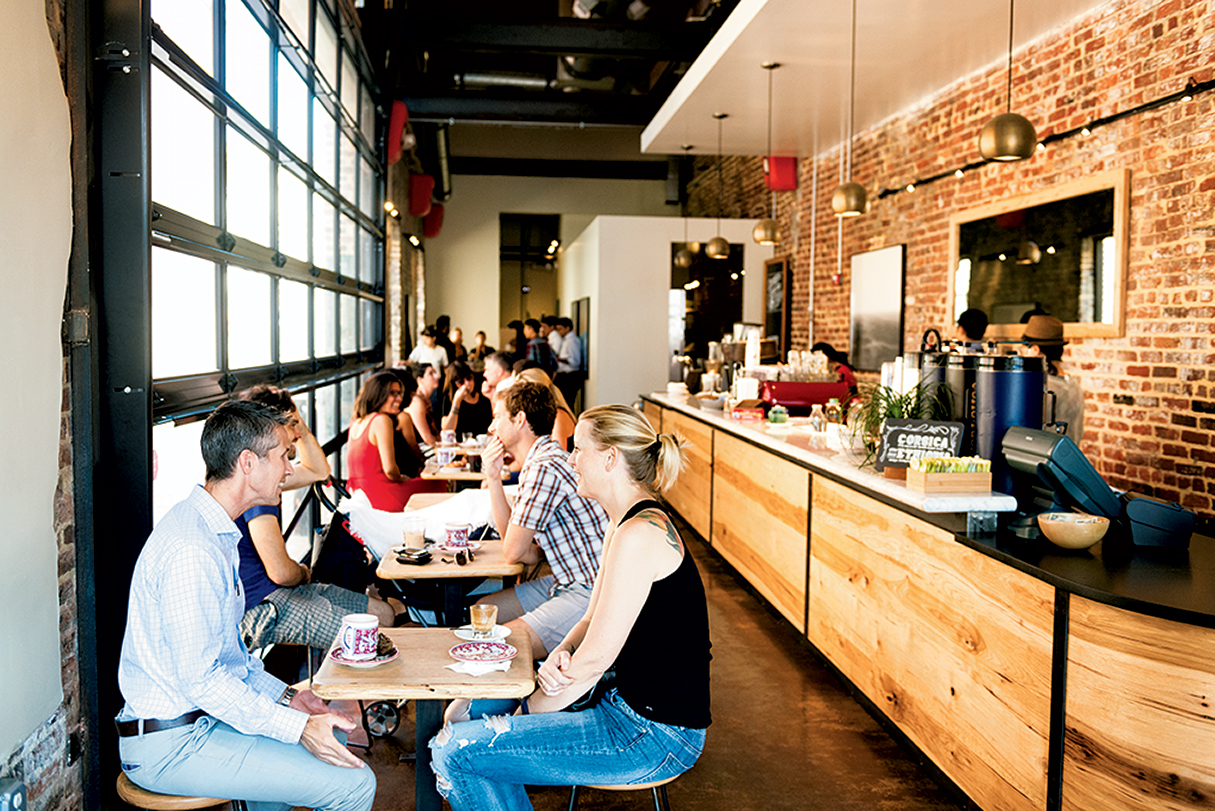 The area is a great place to spend the day, especially when starting with a jolt of caffeine. In a narrow nook inside Blagden Alley, La Colombe (924 N St., NW; 202-289-4850) serves espresso drinks in vibrant Italian ceramics. Compass Coffee (1535 Seventh St., NW; 202-251-7402) is another option. Founded by two former Marines, this newcomer roasts its beans on the premises. Try the lavender-honey latte or a French-press.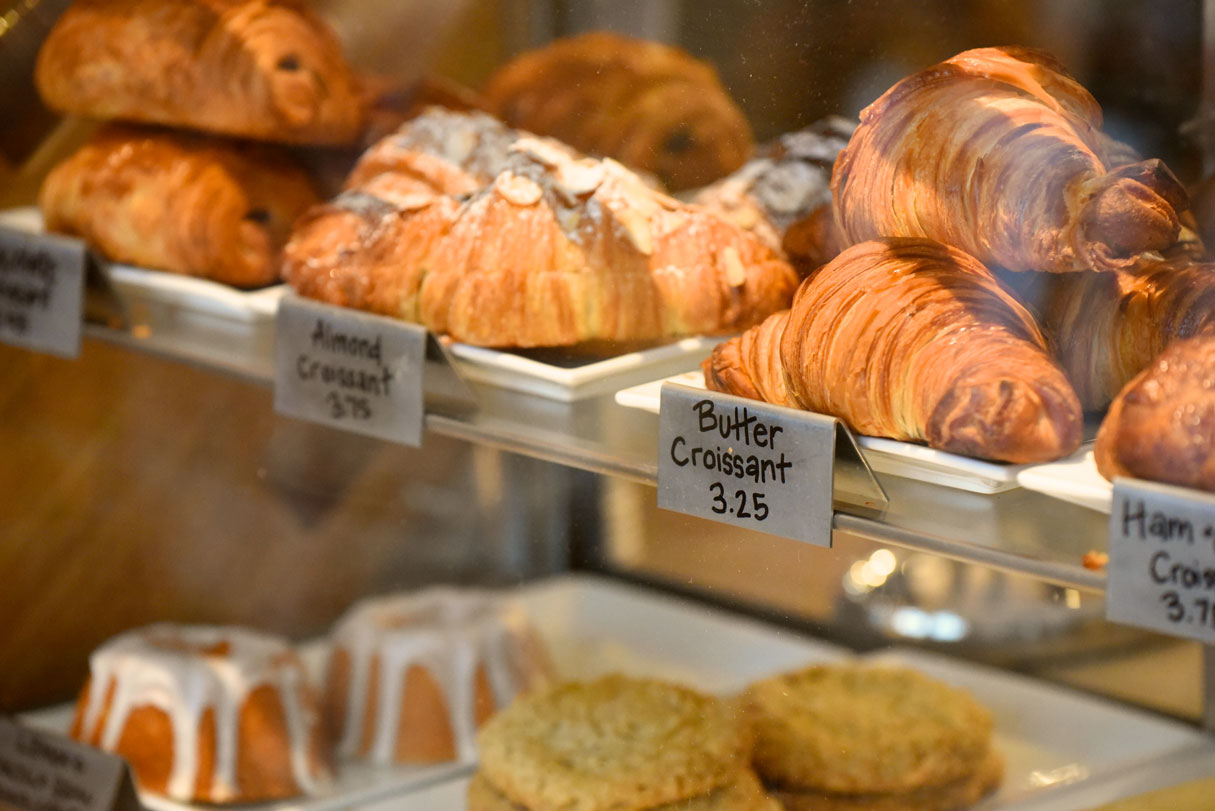 You could continue your morning at Pekoe Acupuncture & Wellness (1410 Ninth St., NW; 202-408-4858), a holistic-health clinic that offers private yoga sessions, shiatsu massage, and "detox" foot baths. For an energy boost, try a class at Reformation Fitness (1300-1302 Ninth St., NW; 202-813-3647) or Solidcore (1821 Seventh St., NW; 202-780-6077), where trainers promise one of the most intense 50-minute workouts of your life. (Michelle Obama is a Solidcore fan; she has gone to the Adams Morgan studio.)
Rather just walk? Detour east to neighboring Bloomingdale, where an influx of hip restaurants has paralleled the removal of bulletproof plexiglass from old liquor stores. If it's before 1 pm on a Sunday, stop by the farmers market at the corner of First and R streets for handmade cheeses and grass-fed meats. Next to the market is Big Bear Café (1700 First St., NW; 202-643-9222), home to a charming patio lined with greenery. By day, there's coffee and treats; at night, unfussy dishes like skillet-roast chicken.
Back in Shaw, you can find a relaxed, low-key lunch at Zenebech Restaurant (608 T St., NW; 202-667-4700). Ask for extra injera to scoop up your curried goat or derek tibs. For weekend brunch, stop by Bistro Bohem (600 Florida Ave., NW; 202-735-5895), a Czech eatery serving chicken schnitzel atop waffles. At Thai X-ing (515 Florida Ave., NW; 202-332-4322), a prix fixe menu, $40 on weekends, offers a vibrant taste of Thai.Bloomingdale is home to other good eats. Newcomer El Camino (108 Rhode Island Ave., NW; 202-847-0419) offers fun twists on Mexican classics. Locals swear by the homey sweets at Grassroots Gourmet (104 Rhode Island Ave., NW; 202-629-2040). And the Italian-leaning Red Hen (1822 First St., NW; 202-525-3021) is among the best kitchens in town.
After your meal, you can shop local. Gardeners will love Old City Farm & Guild (925 Rhode Island Ave., NW; 202-412-2489). Pick up plants, gardening supplies, and local produce, then move on to the market at Seasonal Pantry (1314½ Ninth St., NW; 202-713-9866), stocked with such house-made fare as pickles and dried pasta. If the kids have tagged along, you might visit Westminster Playground (911 Westminster St., NW), where they can romp while you take a breather beneath a shady tree.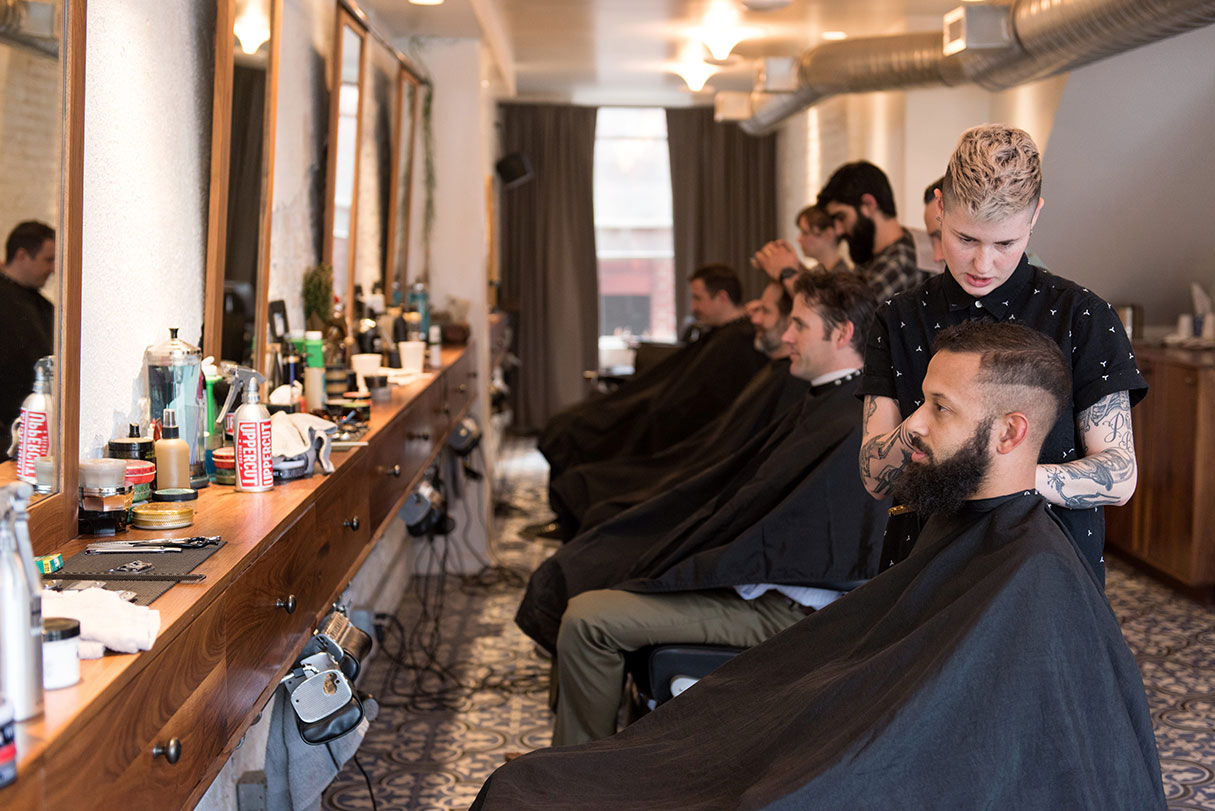 If you're a guy—or are with one—who's been contemplating a daring haircut, check out Barber of Hell's Bottom (818 Rhode Island Ave., NW; 202-332-0200), a hipster's paradise peddling mohawks and straight-razor shaves. Beards not your thing? Opt for a beer instead. There are few better places to enjoy a spring afternoon than Dacha Beer Garden (1600 Seventh St., NW; 202-524-8790), where you can kick back at picnic tables while gazing at the 50-foot-tall pink mural of Elizabeth Taylor.
Shaw is a terrific place to drink. Beer-lovers flock to Right Proper Brewing Company (624 T St., NW; 202-607-2337) for quirky suds fermented with lactobacillus to mimic the flavor of Champagne. Cocktail geeks can pick from Chaplin's Restaurant (1501 Ninth St., NW; 202-644-8806), Lost & Found (1240 Ninth St., NW; 202-450-6052), and A&D Neighborhood Bar (1314 Ninth St., NW; 202-290-1804). For a divier feel, there's the cash-only Ivy & Coney (1537 Seventh St., NW; 202-670-9489), a sports bar that serves hot dogs, Cracker Jack, and beer.
Another choice: a bar crawl of Derek Brown's three spots. Start with a ham sampler and sherry flight at Mockingbird Hill (1843 Seventh St., NW; 202-316-9396), then move next door to Southern Efficiency (1841 Seventh St., NW; 202-316-9396) for whiskey-spiked drinks and pimiento cheese. One door down at Eat the Rich (1839 Seventh St., NW; 202-316-9396), you might pair a martini made from local Green Hat Gin with Chesapeake Bay oysters. Come nightfall, consider stopping by the Howard Theatre (620 T St., NW; 202-803-2899). Even if you can't score tickets for an upcoming act, such as '90s hip-hop stars Salt-N-Pepa (July 18), it's worth peeking inside the fabled building where James Brown and Ella Fitzgerald once performed.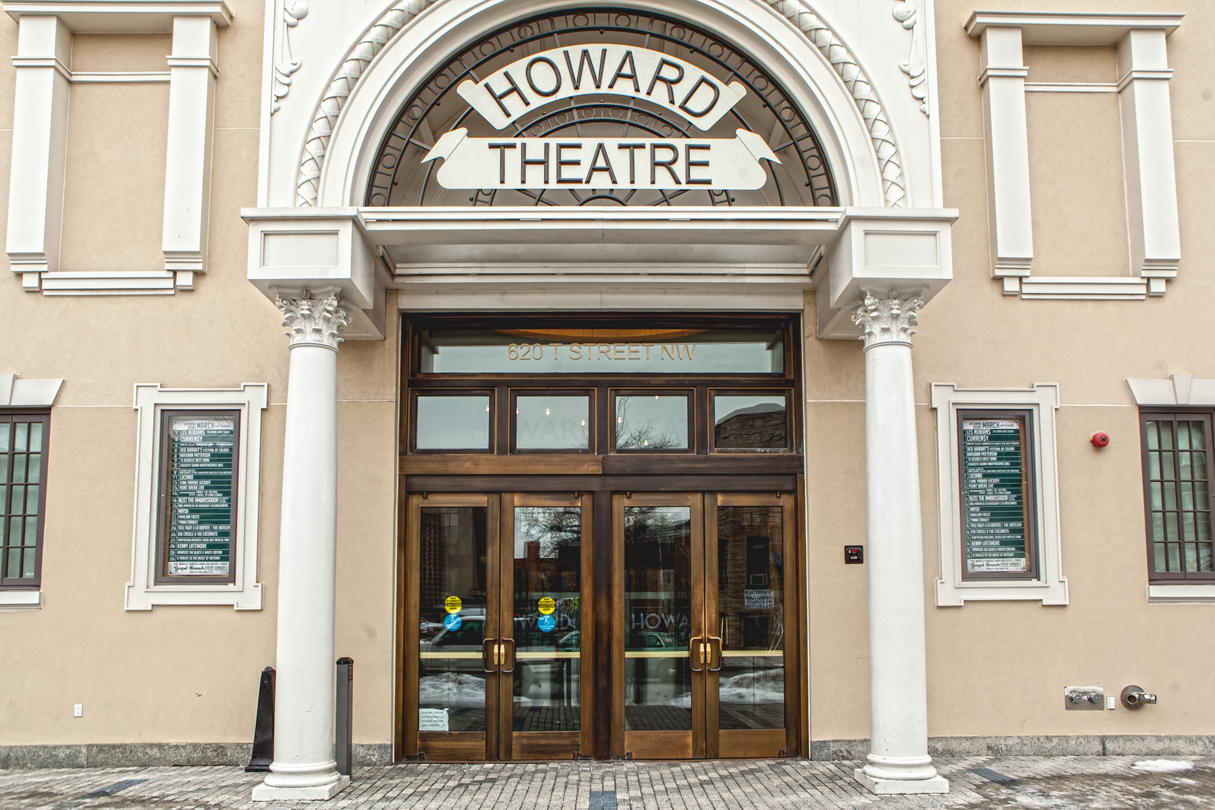 This article appears in our May 2015 issue of Washingtonian.
Questions or comments? You can reach us
on Twitter
,
via e-mail
, or by contacting the author directly: