What To Do
The mile of the 184-mile C&O Canal that spans Georgetown was a vital hub for commerce in the 19th and early 20th centuries. Today it's popular with joggers and bicyclists. Plus it offers a route, stretching from the Four Seasons Hotel in Georgetown's eastern end all the way to Key Bridge, with views of centuries-old stone walls and buildings as well as fewer slow-walking tourists—er, shoppers—than crowded M Street.
In the 1920s, owners Mildred and Robert Woods Bliss considered these serene ten acres their country retreat. They hired landscape architect Beatrix Farrand, who created terraced meadows, pools, an amphitheater, flower gardens, and an ellipse now circled with hornbeams. The Blisses gave the estate to Harvard for a research institute and museum. The gardens are open every day but Monday, through October. 1703 32nd St., NW; 202-339-6401.
There was a lot of media noise in the summer of 2011 when pharmaceutical entrepreneurs Sachiko Kuno and Ryuji Ueno bought this historic estate for $22 million. Through their S&R Foundation, they turned it into an elegant venue for classical concerts and occasionally jazz. Coming this month: the Pittsburgh Symphony Quartet and singers from Wolf Trap Opera. Concerts start at 7:30, but doors open an hour early, allowing time to explore the gardens. 1623 28th St., NW; 202-298-6007.
This slice of Potomac waterfront was for years a decaying parking lot. No more: Since its transformation in 2011, it's become a favorite hangout for taking in views of the river, Theodore Roosevelt Island, Rosslyn (which is transformed by its lights at night), and the Kennedy Center. The landscaping has something for every season, and the fountain is especially popular with families and children in warmer months. K St. between 30th and 34th sts., NW.
Sure, the intimate music venue is tucked into the shadow of Key Bridge, but fans will tell you it feels more like the hills of Appalachia once the nightly show gets going. Owners David (musician) and Karen (lawyer) Ensor book mostly bluegrass and folk. At $10 to $30, tickets are reasonably priced, and the cocktails are good, too. 3401 K St., NW; 202-333-7700.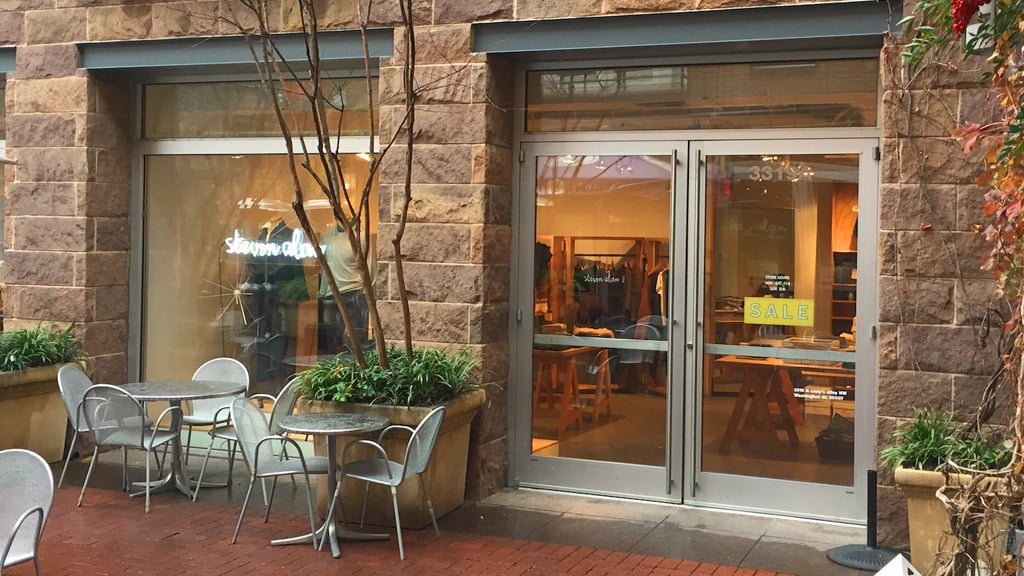 Among the oldest Roman Catholic churches in DC—founded in 1787, though the current building dates to 1829—Holy Trinity attracted worldwide attention in the early 1960s when President John F. Kennedy and his family attended services there. Its congregation still includes many of the city's most prominent Catholics; Tim Russert's funeral was held there, with President Obama among the mourners. Even if you're not religious, it's worth a visit for the history and the handsome interior. Mass is held daily. 3513 N St., NW; 202-337-2840.
To get out on the Potomac on a paddleboard, kayak, or canoe, Georgetowners head to this boathouse, a perfect launching spot for a morning spent floating by Theodore Roosevelt Island or up the C&O Canal. Hourly rentals range from $15 for a single kayak to $25 for a two-person canoe. 3500 Water St., NW; 202-337-9642.
Inside the Georgetown branch of the DC Public Library, on the third floor, is the Peabody Room, a collection of books, photographs, maps, manuscripts, newspapers, artwork, and artifacts that record the story of the historic village of Georgetown, founded in 1751. The librarian, Jerry McCoy, especially treasures an 1822 portrait of freed Muslim slave Yarrow Mamout. Hours are limited—so check before going—and though appointments aren't required, they're appreciated. 3260 R St., NW; 202-727-0232.
Just two years after opening, this upscale bowling alley overlooking the C&O Canal is a fixture. The fun also includes bocce, a bar, and a menu of salads, sandwiches, pastas, and pizza. Call to reserve a lane. 1064 Wisconsin Ave., NW; 202-625-6500.
– Carol Ross Joynt
Where To Eat
The prettiest little dining room in Georgetown belongs to this elegant bistro, done up with mint-green walls and gilt mirrors. Chef Brendan L'Etoile's menu celebrates the classics: red-wine-poached duck eggs, steak frites, an extra-lemony trout grenobloise, and—maybe our favorite—Paris-Brest, an airy pastry filled with praline cream. Next door, the new Bar à Vin is the place for lounging over smoked-bluefish rillettes and flights of French wine. 1039 31st St., NW; 202-965-2606.
The intersection of Wisconsin and M can be teeming with selfie-stick-toting out-of-towners, but a few steps away is a place of spa-like quiet and calm. This Chinese teahouse/shop pours 70-plus varieties—flowery tisanes, aged pu-erhs, blossoms of jasmine that unfurl in hot water—which can be sipped at tables or on floor mats. The kitchen proffers a simple array of dumplings, tea-marinated eggs, and mochi, or you can put together a $14 bento-like lunch. 1063 Wisconsin Ave., NW; 202-333-8288.
If you've got a tricky group to feed—finicky toddlers, timid palates, meat or gluten avoiders—this harbor-front dining room is your spot. The menu is a grab bag of tacos, sushi, comfort plates, and pizza (there's even a jambalaya section). Our strategy: Order a cocktail—or house-made soda—and go for the simpler stuff, whether a Detroit-style deep-dish pizza, a double cheeseburger, or a plate of honeyed fried chicken. 3000 K St., NW; 202-298-8783.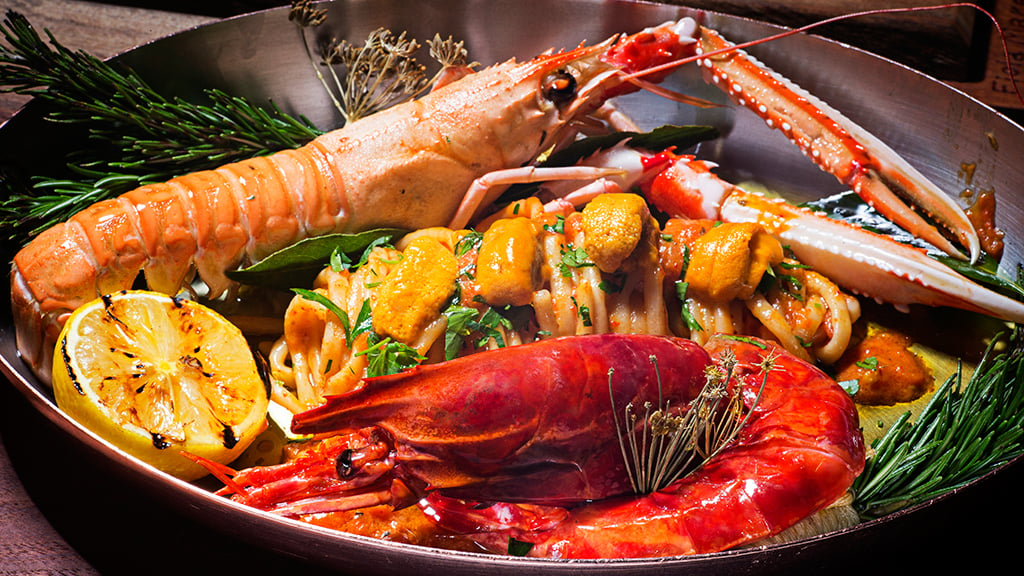 The restaurant that snagged the number-one slot on our 100 Very Best Restaurants list this year got there chiefly because of Fabio Trabocchi's Italian-accented seafood dishes. (Oh, that spaghetti with clams and chilies!) A few of its lesser-known assets: standout cocktails—try the Spring Garden, with vodka, ginger syrup, and cucumber granita—and a destination-worthy brunch, which can be enjoyed on a terrace overlooking the Potomac. 3050 K St., NW; 202-628-0065.
Miss the truffle-cheese-laden burger or Yukon Gold gnocchi for which Frank Ruta became famous at his late Palena? You'll find them both at the Grill Room, the elegant dining room in the Capella hotel. There are other pleasures, too, such as a generous appetizer of smoked trout with chicory salad and mustard dressing. An excellent wine list and pastry chef Aggie Chin's quirky sweets bolster the experience. 1050 31st St., NW; 202-617-2424.
The terrace is the place to be at this leisurely hangout, which puts out some of our favorite Neapolitan pizzas in the area, thanks to a proper Italian oven and top-quality imported ingredients. We like the capricciosa, a lightly blistered crust arrayed with artichoke hearts, ham, and mushrooms as well as the massive calzone spilling with buffalo mozzarella, ricotta, ham, and basil. Or camp out on a sunny afternoon with a charcuterie board and a round—or three—of Aperol spritzes. 1065 31st St., NW; 202-337-4444.
Few restaurants feel as rooted in another time as this stone-bound dowager dining room, a fixture in the neighborhood for 40 years. Here, canonical French relics that are rarely seen on modern menus—pike quenelles in lobster sauce, crepes filled with crab—live on. And desserts (miniature fruit tarts, chocolate mousse) have a similar if-it-ain't-broke sensibility. 2813 M St., NW; 202-338-1784.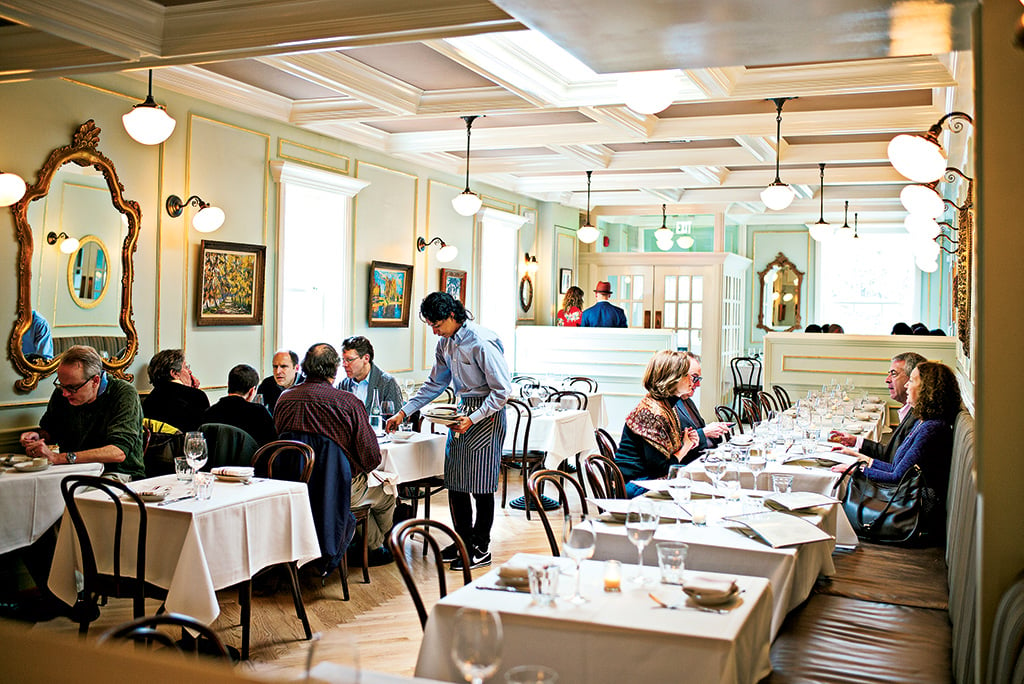 Supplementing your Domino's delivery with a six-pack of High Life? You can do way better at Ruth Gresser's Neapolitan-style pizza joint and birreria. When it comes to pies, we go for the zesty Atomica, sprinkled with pepper flakes and laden with crisp-edged salami, or the briny Bottarga, crowned with a runny egg. Monday through Thursday from 5 to 7, snag them discounted at the bar along with $4 drafts. The wide-ranging beer list includes refreshing Kölsches and lagers as well as punch-packing imperial stouts aged in bourbon barrels. 3282 M St., NW; 202-337-1245.
-Ann Limpert
Where To Shop
Funky fabrics and vintage-inspired styles abound at the New York brand's DC outpost—which has you covered for any occasion, with both casual dresses and glam gala gowns in unexpected prints. The much-celebrated line's arrival on M Street in 2014 was a sign that Georgetown remains a center of retail in the region. 3303 M St., NW; 202-602-0445.
Atlanta's favorite source for sophisticated, all-American apparel—Sid's prior stints include time at J. Crew, Ralph Lauren, and Tommy Hilfiger—landed in the old Neyla restaurant space last year, and it's a sprawling homage to classic sportswear. On Ann's side, the in-house line of luxe basics for women shares space with cocktail dresses by Carven and striped cardis from Sonia Rykiel. Down the hallway in Sid's portion, options range from $65 Levi's to $5,000 made-to-measure suits. All tailoring is done on-site and is included in the price of the garment. Ann Mashburn, 3251 Prospect St., NW, 202-864-0367; Sid Mashburn, 3206 N St., NW, 202-864-0365.
Since shuttering its original M Street storefront in 2011, the Club Monaco brand has evolved into a supplier of sophisticated staples and workwear fashion upgrades. Featuring a men's and women's store along with a functioning bar on the second floor, Club Monaco is back in DC's favorite retail neighborhood and prepared to give you a lot of reasons to spend $200 on a timeless cashmere sweater or a chic shift dress. 3295 M St., NW; 202-333-4971.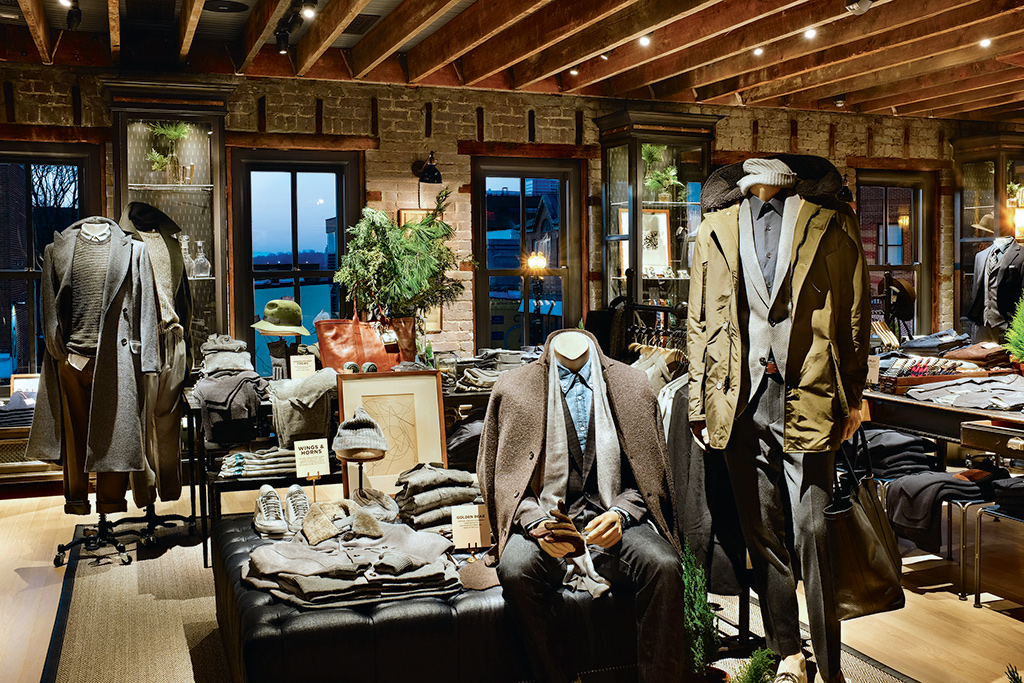 The brand from the founder of Lululemon's wife and son, Shannon and JJ Wilson, has done what seemed impossible: created machine-washable cashmere. Do not, however, expect your grandma's fluffy cardigans. Instead, you'll find drapey, super-soft tees, office-appropriate dresses that feel like pajamas, and well-cut outerwear. The line already has locations in Shaw and Bethesda, and the Georgetown store opens June 16. 3263 M St., NW; 844-548-6223.
After the pop-ups Ledbury has hosted in Georgetown, it shouldn't come as a shock that the luxury men's brand has chosen the neighborhood for its forthcoming third store, the first location outside its Richmond home base. Owners Paul Trible and Paul Watson garnered the fashion industry's attention with their meticulously made dress shirts—a craft they learned in their twenties while working alongside Jermyn Street shirtmakers in London. They'll offer both off-the-rack and made-to-measure versions at the upcoming Cady's Alley location, slated to open by late April. 3319-A Cady's Alley, NW; 888-233-1942.
This Georgia purveyor of preppy apparel—and by that we mean seersucker shorts and needlepoint belts—arrived in Georgetown last June. Since then, it's been outfitting DC's Southern gentlemen (and aspiring Southern gentlemen) with clean-cut workwear, plus supplying their mothers with perfect gift ideas, including monogrammed cocktail shakers and high-end toiletries. 1063 Wisconsin Ave., NW; 202-838-9365.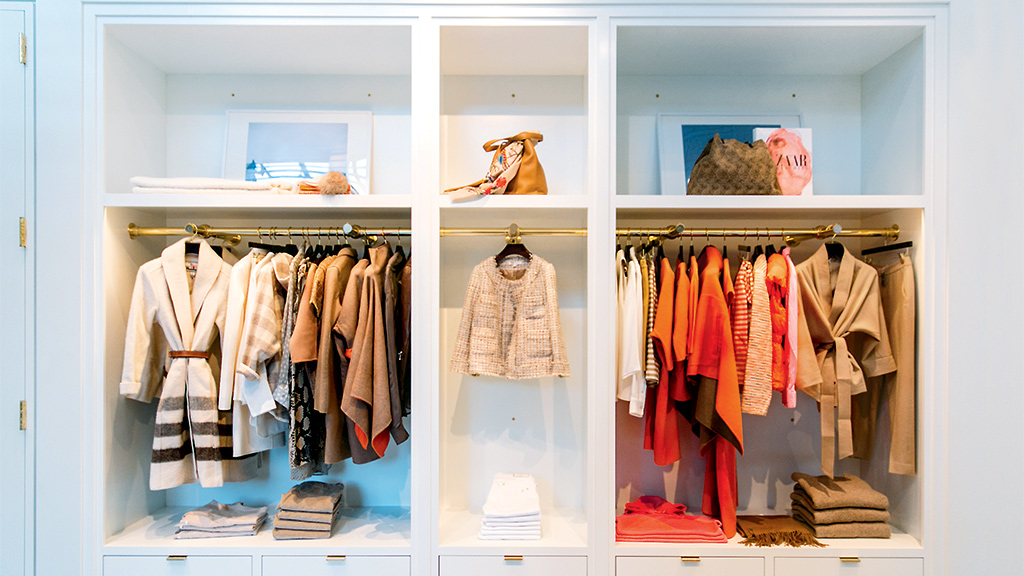 Considering how often Washington events require women to show up in formalwear, it's surprising that the online dress-and-accessories rental company didn't open a store here sooner. When it finally landed on M Street in 2014, it provided women in town with an easy way to get gala-ready: set up an appointment, try on dresses, and take one home for a few days at a fraction of what it would cost to buy. With its new Birchbox "store-in-store," ladies can now get their makeup done while picking up their gown. 3336 M St., NW; no phone.
Since the launch of Tuckernuck.com in 2012, we've relied on the line—founded by a trio of stylish women—for preppy and brightly printed apparel, monogrammed bags, and trendy accessories. Finally, the e-tailer is fulfilling its longstanding goal of running a brick-and-mortar in Georgetown. The shop is set to open in mid-May with a pared-down selection of the company's online goods. 1053 Wisconsin Ave., NW; 888-501-8101.
After making a name for itself with reasonably priced, fashion-forward eyewear and a philanthropic mission to give away a pair of glasses for each pair sold, Warby Parker first tested the Washington market with a school bus turned mobile showroom. Three years later, it has set up shop in Shaw and Georgetown. The latter location is smaller, but it got here first and there's still plenty of space to browse the selection of glasses and to snap selfies against the background of its custom-illustrated wallpaper. 3225 M St., NW; 202-618-5605.
-Sarah Zlotnick, Caroline Cunningham
Editor's Note: This article has been updated, including the founders of Kit & Ace and the Georgetown Kit and Ace opening date. 
This article appears in our May 2016 issue of Washingtonian.
Questions or comments? You can reach us
on Twitter
,
via e-mail
, or by contacting the author directly: