While a proposal can be as simple as a quiet moment and a promise shared between two people, some individuals really get into the planning of a perfect proposal. Below, see several of our favorite ways Washington couples have gotten engaged.
At a "Dog Happy Hour"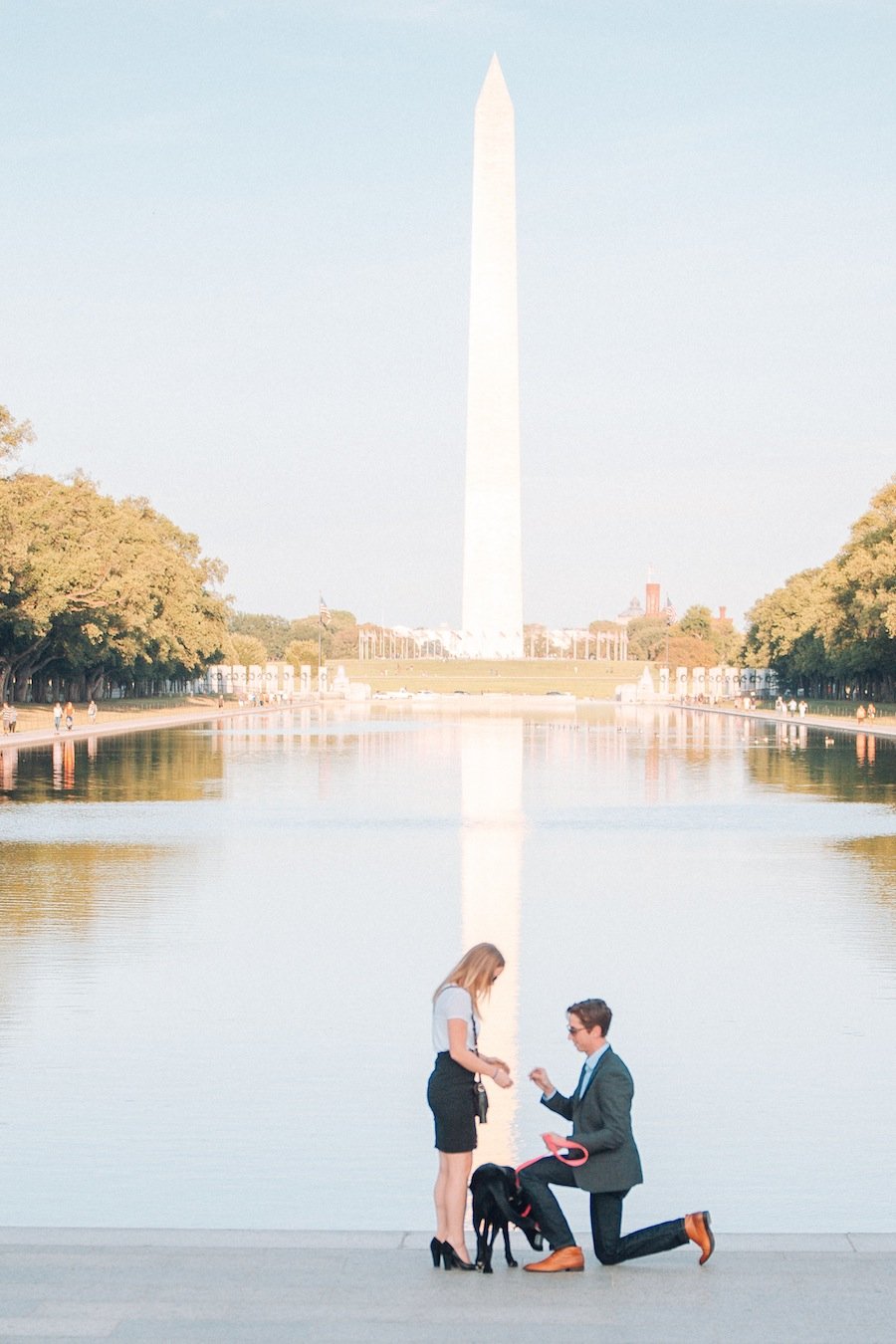 In an only-in-DC situation, Charlie Rigoglioso brought his high school sweetheart Paige Howe to the National Mall under the pretense of a dog-inclusive happy hour called "Barks and Blazers." It was so believable that even after Charlie had popped the question, Paige said, "So, are we still going to Barks and Blazers?" Photograph by  Carly Arnwine.
With a Falcon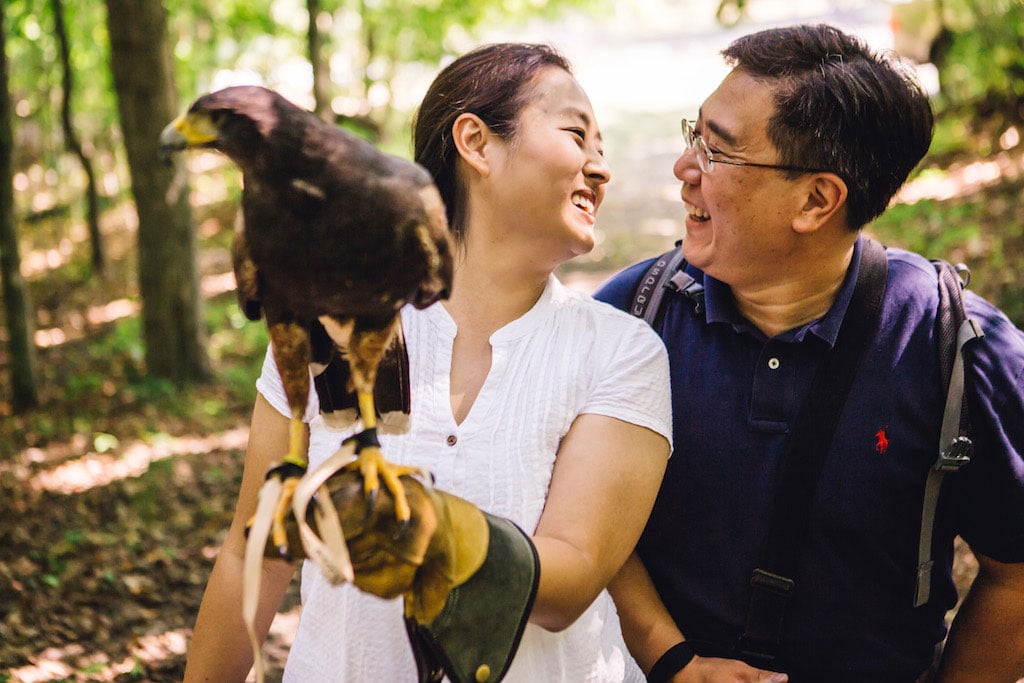 Knowing that his girlfriend Jessica Kim was really into birds of prey, Gene Chun used their visit to the Omni Homestead Resort to propose to Jessica during a private falconry lesson. He'd coordinated with the falconry instructor beforehand so that when the bird landed on Jessica's arm, she was able to read the leather strips tied to its leg, which read: "Jessica, will you marry me? Jessica & Gene. Side by side for always." Photograph by Ken Pak Photography.
At the White House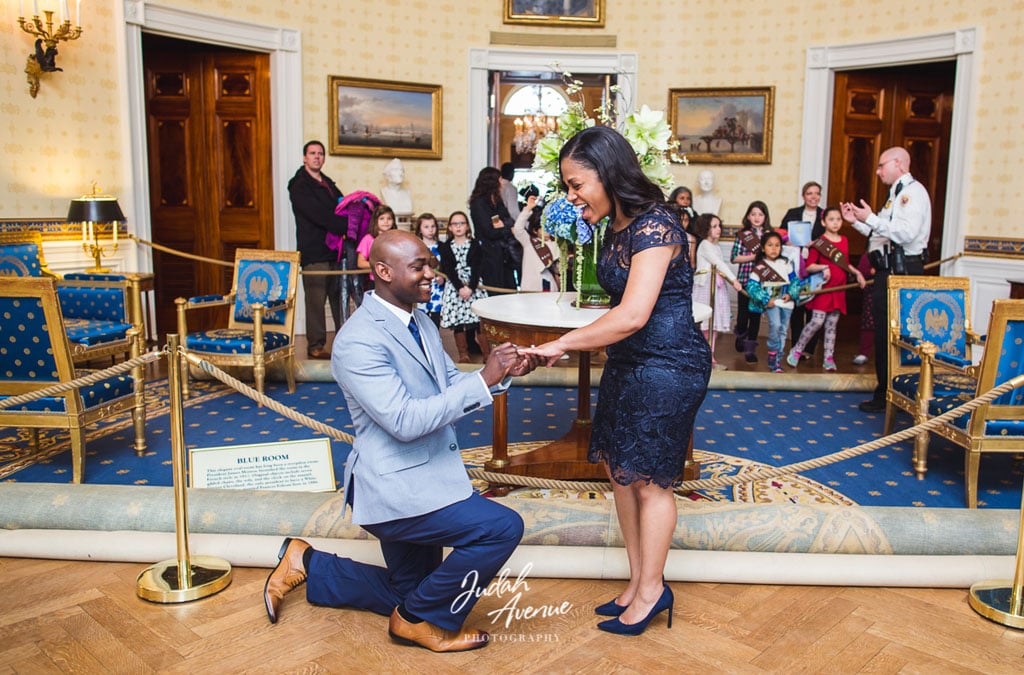 Orlando Morel was rescued by the Coast Guard as a child refugee from Haiti and grew up to join the U.S. Coast Guard as a naval engineer. He also serves as a social aide at The White House, and so he planned to take his girlfriend Shameeka Edwards and her father on a tour of The White House. Shameeka hired a photographer so they could snap some family photos during the visit, but Orlando surprised her by using the tour as a chance to propose. Photograph by Judah Avenue Photography.
With the Help of Bernie Sanders
Thanks for the assist, Bernie. #Engaged pic.twitter.com/1lSD7TXj99

— Hector Sigala (@hgsigala) May 9, 2016
When Hector Sigala, Bernie Sanders' campaign social media director, was ready to propose to his girlfriend, Kimberly Riofrio, he got Bernie in on the plan with a personal video from the man himself.
In an Airplane Hanger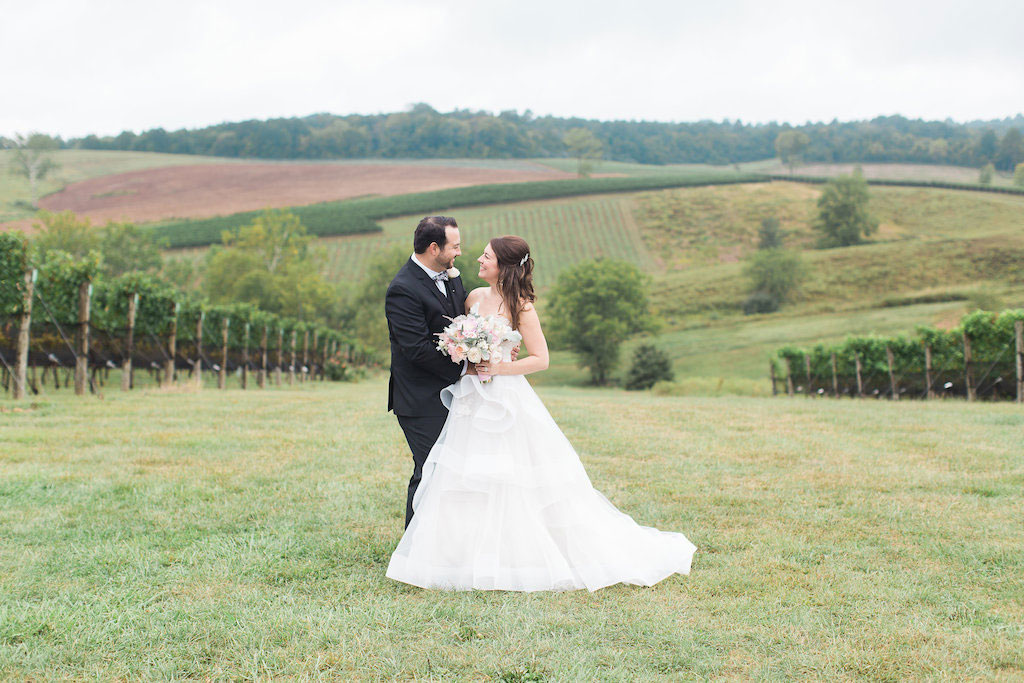 Catherine Slacum's friend had convinced her that they were heading to a dress fitting. Instead, she brought Catherine to an airplane hanger, where her friend's fiance was hiding with a camera. When she spotted her boyfriend Michael Villari she knew something special was happening. After Michael proposed, he whisked Catherine into a helicopter for a ride over Baltimore, celebratory Champagne in hand. "It felt like we were on The Bachelor!" says Catherine. Photograph by Angela Newton Roy. 
At the 9:30 Club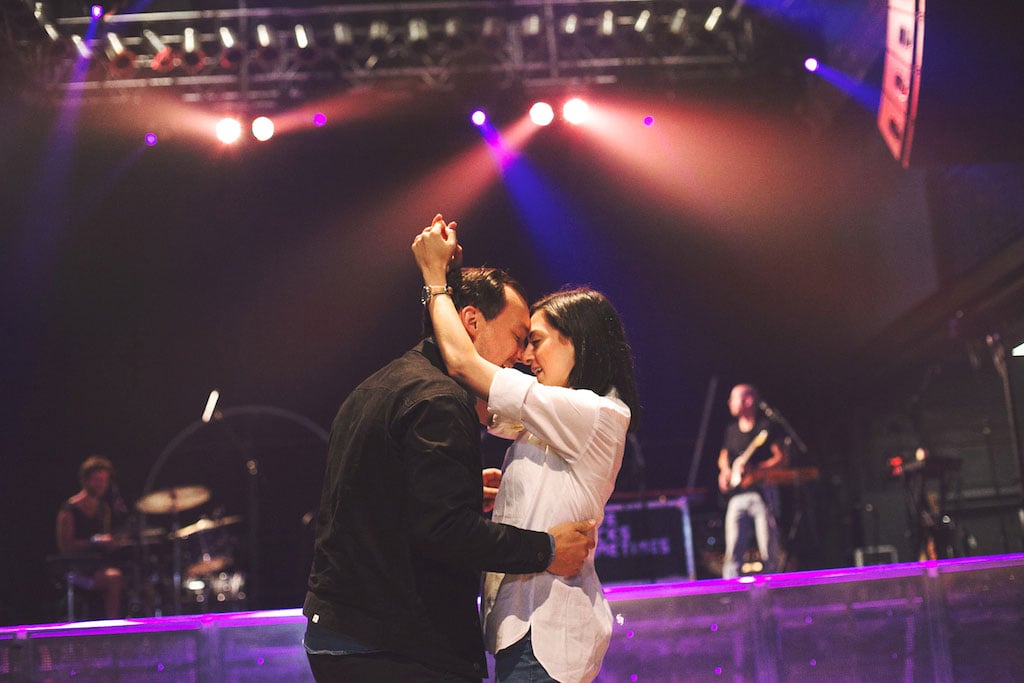 When Carl Maynard and Diana Elbasha's favorite band, Lany, was scheduled to perform at the 9:30 Club, Carl arranged for the two of them to attend the pre-concert soundcheck. Afterwards, the band broke into the couple's favorite song, at when it was over, Carl got down on one knee, while a friend caught the moment on camera. Photograph by Tamon George.
At Nationals Park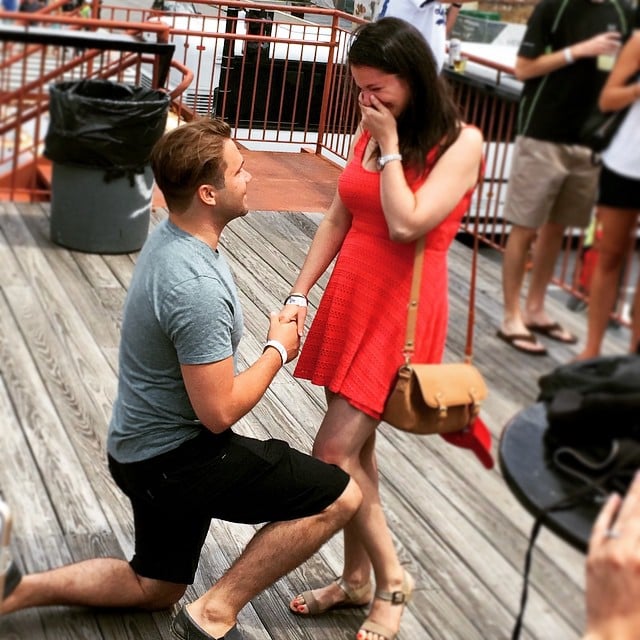 Anna Spiegel (who happens to be Washingtonian's food editor) and Tom Gordon grew up together in the DC-area, so a thoroughly DC proposal was perfect for this pair. They met in high school at Sidwell Friends, but it wasn't until many years later that the two Nationals fans went on their first date: a ballgame preceded by drinks at the Bullpen. Three years after that first date, Tom brought Anna back to the Bullpen with a group of their closest friends and tickets for all to the game afterwards. The plan was a home run: He proposed, she said yes, and the Nats won. Photograph courtesy Anna Spiegel. 
On the Same Day They Married

Alfred Duncan made headlines when he proposed to his girlfriend Sherrell Woodward just hours before he'd planned a surprise wedding for her at National Harbor. After she was dressed in a black evening gown with hair and makeup done, she was blindfolded and driven to the ceremony site, where loved ones were waiting to watch them wed.
At the Kennedy Center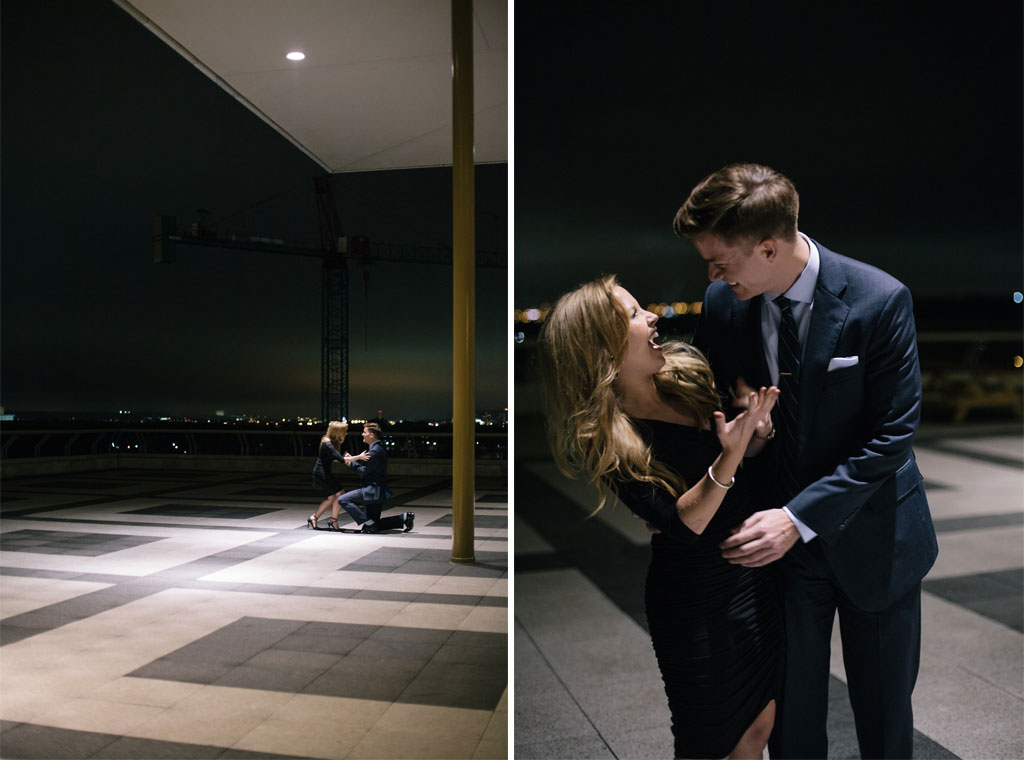 Both lovers of the arts, Philip Minardi had taken his girlfriend Hayley Kropog to see her very first opera at the Kennedy Center. Two years later, Philip took Hayley to The Marriage of Figaro at the Kennedy Center, and during intermission, he brought her up to the rooftop terrace, where a photographer caught the moment as he got down on one knee. Photograph by Whitney Porter.
While Skydiving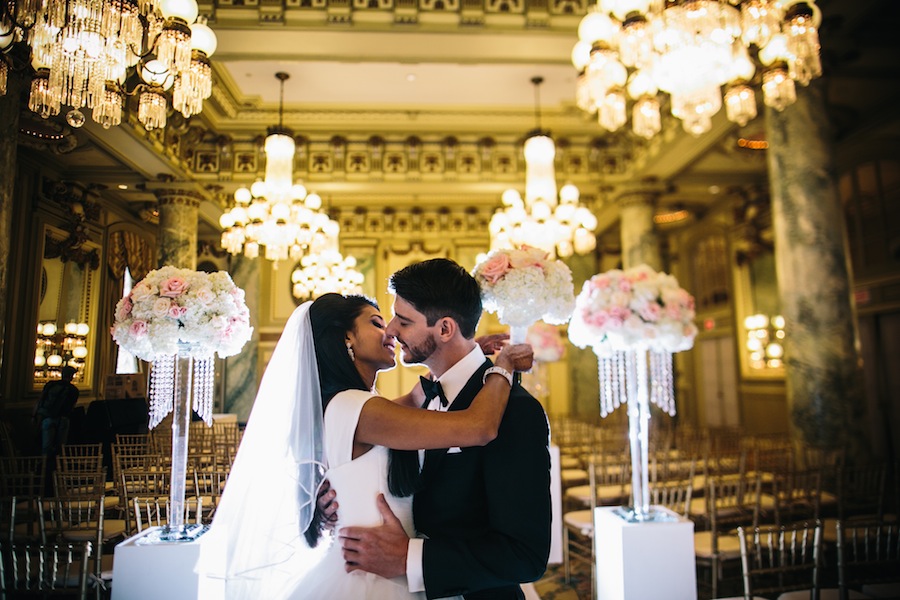 When Leonid Gaiazov surprised Sabrina Ali with a skydiving adventure in Virginia, she probably thought that that would be the most exciting part of her day. But on their 13,000 foot descent, Sabrina saw a banner below them that read, "Marry me?" Photograph by Nat Wongsaroj Photography.